Hugghins' cultural milieu includes Prairie Rep
M.K. Hugghins was listening when her mother told her to "Bloom where you're planted." And she's awfully glad that fifty-nine years ago, she was planted in Brookings, where she could establish roots in family-friendly soil and branch out into the city's growing cultural scene.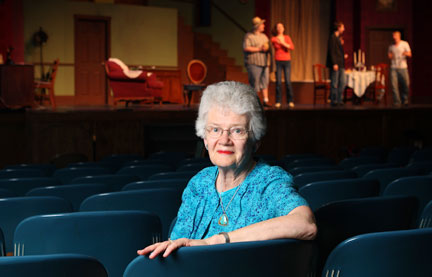 Born and raised in Conway, Arkansas, just north of Little Rock, Hugghins was a grad student at the University of Illinois when she met her husband, Ernie, who was working on his doctorate in zoology.
"He was from Texas," Hugghins says. "I got a master's in music and I got a Ph.D. in zoology—I married it."
A position at SDSU brought the couple to Brookings in 1952. Ernie taught in the Department of Entomology/Zoology, which later morphed into Biology, for thirty-three years, serving as department head the last four and retiring in 1985.
"Brookings is a wonderful place to raise a family," Hugghins says. "Little by little, Brookings has acquired all the amenities of a big city, but doesn't have the traffic, the commute. Everything is within five, ten minutes. It's really been great."
Family of five
The Hugghins raised three children, taking them on the trip of a lifetime when they were 12, 9, and 6.
"Ernest had a Fulbright to Lima, Peru," Hugghins says. "We were there for seven months and we became very interested in all of the pre-Columbian culture that existed in this hemisphere. All of our children started Spanish in Peru and all of them have Spanish majors."
As the Hugghins children grew up, their parents became more active in organizations connected to the local cultural network.
He lent his excellent singing voice to the church choir as well as many a community theatre musical.
She became active in the Brookings Art Council when it formed in the 1960s, was on the library board when it built its current quarters, and was part of the group that recycled the former Carnegie Library into the Community Cultural Center.
And, if there were such a thing, she would be a member of the Prairie Repertory Theatre Long Time Season Ticket Holders Club.
"M.K. is certainly one of our greatest supporters and among a number of people who have been season ticket holders since the early years of PRT," says director J.D. Ackman. "M.K. and her late husband, Ernie, and our other longtime subscribers are much more than patrons or customers. They are members of the extended PRT 'family.' We hold M.K. in the highest regard."
For Hugghins—who, by the way, worked alongside Ackman's mother, Geneva, for the Brookings Arts Council—the theatre has been long been in her blood.
"I've always been interested in plays," she says. "When I was in public school, I enjoyed the senior class play. There were three colleges in Conway. The little Baptist school didn't do plays, but the Arkansas State Teachers College and the Methodist school did. So, early on, I attended plays and always enjoyed them."
Nothing really compares with that in-person aspect, she says.
Intimacy at play
"You can see lots of drama and everything on TV, but there's something that I particularly like about live theater. A movie, they'll switch you around; they've got more opportunities to go to different locations.
"But I enjoy the stage. There's something more intimate, more special about a live performance. And it's never going to be the same way twice."
The Hugghins' rarely missed a theatre performance, whether during the regular season or Prairie Rep, until 2009-10, when Ernie was sick. Since he died in January 2010, Hugghins has been learning to do more things by herself.
She's been enjoying the current summer season, with obvious delight for one play in particular.
"Noises Off," she says. "They did that in 1999. You see the play from the front, then from the side. I'm so glad they're doing that again."
She has her three children, all SDSU grads. Susan, who graduated in foreign language and sociology, is a Wycliffe Bible Translator in Oaxaca, Mexico, 300 miles south of Mexico City. Arley, a physics and Spanish grad, will soon retire as a colonel from the Air Force. He and his wife, Kristin, live in Dayton, Ohio and have three children, 4, 3, and four months. Kay Becker, who met her husband, Tom, during Capers at State, lives in Brookings, where he works at Daktronics. They have two children, 14 and 12.
Hugghins has her husband's memoires to go through. "We have a library to rival the public library," she says.
And she continues to play the organ at her church one Sunday a month, two in the summertime.
"I'm a classical organist," Hugghins says. "Even though I was trained to be a musician in a big church in a big city, I bloomed here, where I was planted. I enjoyed it and have no regrets."