2007 graduate makes first gift to SDSU, becomes 20,000th donor
When Kelley Johnson made a gift to the Greater State Fund in late December, little did she know she had become the 20,000th donor to It Starts with STATE: A Campaign for South Dakota State University.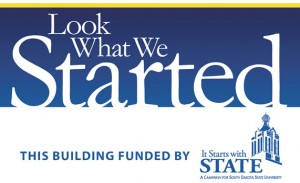 The 2007 graduate's first gift to her alma mater garnered her SDSU-style VIP treatment, including special recognition at a Jackrabbit basketball game.
By January 31, total gifts and pledges received since January 1, 2007, had approached $180 million. The campaign gifts range from a $15 million investment from Avera Health to 212 commitments of $100,000 or more to first-time gifts from young alumni like Johnson. Sixty percent of the total dollars raised have come from South Dakota residents and companies.
"The response by alumni and friends to this campaign has been unprecedented," says campaign cochair Dana Dykhouse '79. "We're humbled by the loyalty people have to State. Every gift makes a difference, especially as we work to surpass our $200 million goal by the end of 2012."
It Starts with STATE: A Campaign for South Dakota State University represents the largest investment of private dollars to higher education in South Dakota history. The campaign is already transforming the University with new scholarships for students, endowed faculty positions, newly constructed and renovated facilities, and increased support for marquee programs.
Johnson designated her gift to the College of Agriculture and Biological Sciences, where she earned a degree in animal science. Her husband, Chet, received his degree in range science in 2007. Like many Jackrabbit couples, Kelley and Chet got their "start" at State.
"I met my husband in my first animal science lab my freshman year and we have been together ever since. He proposed to me in the parking lot of Coughlin-Alumni Stadium," says Kelley.
The couple married in May 2006; they have a 2-year-old son, Croix. (Read more about the Johnson family and their motivation to start giving back at ItStartswithState.org.)
Gifts to the campaign are already impacting the University, with new academic programs, such as an Economics and Management Initiative and the state's only architecture program, nearly 600 new scholarships and more than one dozen new buildings or major restorations.
"With less than one year remaining in the official campaign, it is a great milestone to have reached 90 percent of our goal," says Dykhouse, CEO of First PREMIER Bank in Sioux Falls.
He cochairs the campaign with Jerry Lohr, a 1958 alumnus and founder of J. Lohr Wines, and Al Kurtenbach, cofounder of Daktronics. The effort is supported by volunteer regional campaign committees in South Dakota, Phoenix, Denver, and the Twin Cities.
"Every gift matters," says Dykhouse. "Every gift makes an impact."
To give, log onto ItStartswithState.org/give-now.
Or, mail your gift to the SDSU Foundation at 815 Medary Ave., Box 525, Brookings, SD 57007.
Follow the SDSU Foundation on Facebook and Twitter