My wife, Marcia, and I look forward each year to the Meet State weekend, specifically spending a Friday helping first-year students move into their residence hall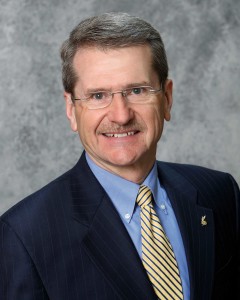 rooms.
Parents talk to us about the experience. They tell us how much they appreciate the help and how well the day has been organized. They give us feedback on summer registration and orientation that introduced their children to the university. They comment on the look and feel of our campus.
And alumni parents are easy to pick out among thousands of people on campus: They talk enthusiastically about the changed campus and the many new and remodeled buildings.
I am pleased that alumni and visitors recognize the improvements on campus. The buildings are certainly obvious, but the facilities tell only part of the story. Many very important advancements have been made at the university that are not as obvious as the new Enrollment Services Center or the Architecture, Mathematics and Engineering Building that opened this fall.
The South Dakota Board of Regents at its April meeting approved the university's School of Design. This is much more than an adjustment to the organizational chart. The School of Design is a game-changer for students and faculty in five academic programs in four departments that were spread across three colleges—Agricultural and Biological Sciences, Arts and Sciences, and Education and Human Sciences.
The new School of Design, led by Professor Tim Steele, is now part of the College of Arts and Sciences. It offers Bachelor of Fine Arts degrees in architecture, graphic design, interior design and studio art and a Bachelor of Landscape Architecture for students in that discipline. These are industry-standard professional degrees.
This School of Design takes advantage of professional and intellectual synergies, utilizes shared core courses and captures interdisciplinary collaboration throughout the undergraduate experience. It enables national accreditation or re-accreditation of all five degree programs. The final result is simple: The BFA or BLA degree from South Dakota State University will best serve students and the growing design industry.
Now, our challenge is to complete the fundraising for the new Visual Arts and Design Building that the new School of Design will call its home when completed. I referenced this very important project in the previous issue of State magazine.
The Division of Management and Economics—a collaborative venture building on the strengths of seven degree programs in four departments across four colleges—is moving toward a similar transformation. The end result will be shared competencies and synergies in management, economics and analytics. This interdisciplinary division will strengthen these fields of study and enable national accreditation.
Strong academic programs rest on faculty excellence, rigorous curricula and modern, supportive facilities. These attributes are necessary for program accreditation, an external validation of quality and the value of the degree.
Construction and renovation provides buildings that are noticeable and impressive. More importantly, these facilities are conducive to teaching, learning and research consistent with the expectations of a land-grant university. Facilities may attract attention and certainly are factors prospective students consider when choosing a university; the activities inside the walls are why students ultimately succeed at South Dakota State University.
Each fall, Marcia and I look forward to Hobo Day. We'll see you in October!
David L. Chicoine, Ph.D.
President
Class of 1969