Jake Krull '60 died Nov. 25, 2016, at Prairie Lakes Healthcare System in Watertown at the age of 77. Krull, of Watertown, was named a Distinguished Alum in 2014.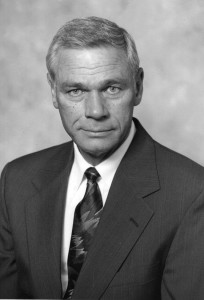 Krull joined the SDSU Foundation board in 2003 and served as chairman of the board of governors in 2009 and 2010. He was vice chair when the group approved a six-year, $200 million fundraising campaign. Krull kept the board moving ahead despite a severe economic downturn that hit in 2009.
He also had a 26-year career in the South Dakota Army National Guard, retiring as brigadier general in 1989. Also a leader in the insurance business, Krull eventually became president of National Farmers Union Insurance in Denver.
He entered the insurance business in 1963 after spending two years in the U.S. Army. His father had sold the family farm a couple of years earlier and Krull returned home to Watertown to work with his father, J.E., in the Farmers Union Insurance Agency.
He sold policies and worked with customers for 21 years, always qualifying for the incentive-based trips, except for 1972, when he first ran for the state Senate. Krull served five terms before deciding not to seek re-election in 1982.
In 1984, Krull was promoted to state manager. For the next five years, he dramatically increased the professionalism of the agents with many going from part-time to full-time agents, resulting in increased production and better service for the policyholders.
From 1989 to 2001, he served as president of Denver-based National Farmers Union Insurance, turning a financially stressed company into a consistently profitable one with a "AA" rating from A.M. Best Company.
He and his wife, Phyllis (Skillman) returned to Watertown to retire in 2001.