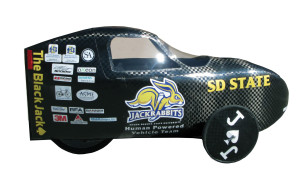 Practice doesn't always make perfect, but it sure helped a group of SDSU engineering students receive honors as builders of the fastest racing bikes in the country.
The South Dakota State University mechanical engineering students competed in Human Powered Vehicle Challenges in Las Vegas March 17-20 and Cookeville, Tennessee, April 21-23 and finished third and second overall.
Both contests are sponsored by the American Society of Mechanical Engineers. Schools can enter either contest. SDSU was the only school to compete at both.
This is only SDSU's third year participating in the contest, finishing 17th in 2015 and 23rd in 2016. Adviser Greg Michna credits this year's marked improvement to a group of dedicated students who put in well over 800 hours in creating this year's entry, The Black Jack. With earnings from Cookeville, the team received $1,600 prize money this year.
Plans are to use those funds for next year's entry.