In Memory of Gene Murra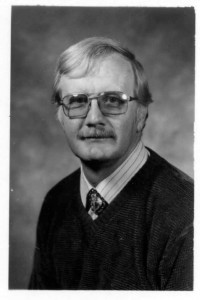 Professor Emeritus Gene Murra, 78, of Brookings, died Oct. 6, 2015, at The Neighborhoods at Brookview.
He served on the SDSU faculty from 1970 until 1997 and was named a Distinguished Alumnus in 1992 for service to South Dakota.
Born in Lennox in 1937, Murra was raised on farm near Worthing, graduated from Worthing High School in 1955 and received degrees in economics from SDSU in 1959 and 1960 (master's). In 1963 he earned his doctorate in ag economics from The Ohio State University in Columbus.
He taught five years at Louisiana State (1964-69) and one year at Mississippi State (1969-70) before returning to South Dakota.
Murra spent five years as director of the Minuteman Missile Education Center in Rapid City. In 1975, he moved to Brookings, teaching in the economics department and working with SDSU Extension as a livestock marketing specialist. In 1985-86, he was acting department head.
Murra was most recognized for his role with "Midwest Market Analysis," a commodities program that aired on South Dakota Public Television.
The program was born in fall 1979 as a short segment on South Dakota Public Television's "This Week." By the end of the 1979-80 television season, "Midwest Market Analysis" had developed enough of a following to be given its own half-hour weekly slot, airing at 8:30 p.m. Friday and 12:30 p.m. Saturday.
Murra handled the livestock news and forecasts while Art Sogn reported on the grains. It became South Dakota Public Television's highest rated program.
Murra and his wife, Barbara, also were prominent in the Brookings community, chairing the Brookings Evening for the Arts in 1989 and the United Way campaign in 1993. He twice served as senior warden at St. Paul's Episcopal Church in Brookings.
Even as Professor Emeritus, he taught a couple sections of ag marketing for a few years. He also became a licensed real estate appraiser in 1993. The economics department named him a distinguished alumnus in 1999.
He was involved with the military from 1955, when he joined ROTC as a freshman at college, until retiring as a colonel in the U.S. Army Reserve in 1987.
Murra married Carol Adams in 1958 and they had four children. He married Barbara Huckabay Brug  March 15, 1975, at the Ellsworth Air Force Base chapel in Rapid City.
Survivors include his wife; six children, Gail Tischler, Lynne Del Rio, David (Samantha Wright) Murra, Sue Murra, Tiffany Heyduk and Shelley (Tonya) Brug; seven grandchildren and one great-grandchild. He was preceded in death by a son, Scott Brug; and a brother, Duane.
In Memory of Charles R. "Chuck" McMullen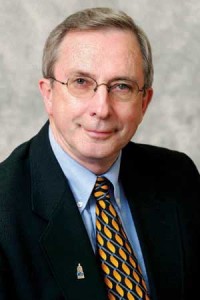 Charles R. "Chuck" McMullen, a cornerstone in the College of Agriculture and Biological Sciences for 37 years, died Oct. 27, 2015, at his residence, surrounded by family, following a 10-month battle with pancreatic cancer.
He was honored as a Distinguished Alumnus for Outstanding Service to SDSU in 2005.
McMullen, 72, earned a bachelor's degree in biology from Northern State in 1966 and then entered graduate school at SDSU, earning his master's in botany in 1969 and his doctorate in plant science in 1975.
The Pierre native began as a graduate teaching assistant in 1966 and worked his way up to full-time assistant, instructor, assistant professor, associate professor and then professor in 1983. His primary area of emphasis was teaching intro courses in biology and botany as well as doing research on plant ultrastructures.
He became acting head of the biology department in 1985, when Ernest Hugghins retired. In October 1986 he was announced as department head. He was given the additional duty of acting head of the microbiology department when Robert Todd resigned in January 1989.
McMullen became associate dean of the College of Agriculture and Biological Sciences in 1999.
McMullen retired in 2002 but came out of retirement to serve as interim dean from Aug. 1, 2004, to May 1, 2005, serving in the vacancy created by Fred Cholick's move to Kansas State.
In 1985, he was named a Teaching Fellow by the National Association of Colleges and Teachers of Agriculture. Students selected McMullen as AgBio Teacher of the Year for 1984-85.
Among his assignments was a two-month stay in Botswana working with other SDSU faculty members on a five-year plan to assist the Botswana Agricultural Training School. He also spent two weeks in China in fall 1988 visiting universities and ag research facilities at the invitation of China's Ministry of Agriculture.
Other career highlights include working to establish a doctorate in biological sciences, the first such degree the university had offered, and helping to establish the Oak Lake Biological Field Station at the site of a former Girl Scouts camp.
Outside of campus, McMullen enjoyed hunting, fishing, working on his hobby farm north of Brookings and running. He was a charter member of Prairie Striders Running Club, formed in 1969, and continued his morning ritual nearly every day until beginning cancer treatment in early 2015.
McMullen is survived by his wife of 48 years, Marcia; a son, Mark (Tina), of Brookings; a daughter, Nicole (Mike) Ness, of Rochester, Minn.; five grandchildren; three sisters-in-law and a brother-in-law.
In Memory of Gene Amdahl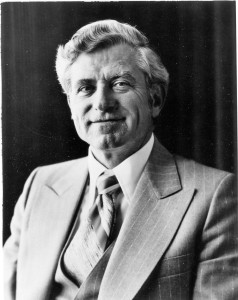 Gene Myron Amdahl '48, called by his top boss at IBM as the father of the mainframe computer, died Nov. 10, 2015, at Vi at Palo Alto, a continuing care retirement community in Palo Alto, California.
Amdahl, 92, was born Nov. 16, 1922, in Flandreau, to parents of Norwegian and Swedish descent. He grew up on a farm and attended a one-room school through the eighth grade. Rural electrification did not reach Flandreau until he was a freshman in high school.
He enrolled at State in 1941 and tried to enter the military the following year, but was told to stay home and help with harvest. He joined the U.S. Navy in 1944, served two years, returned to State in 1947 and graduated with a degree in physics in 1948.
He then studied theoretical physics at the University of Wisconsin, earning a master's degree and a doctorate.
Amdahl's Ph.D. thesis, which laid out the design of one of the first computers, was too complex to be graded at the school and was sent for evaluation to the U.S. Army's Aberdeen Proving Ground in Maryland. In 1952, he received a doctorate, which also brought a job offer from IBM.
He made an immediate impact as chief architect of IBM's 704 scientific mainframe computer. It far outsold initial predictions, cementing Amdahl's reputation as a rising star.
'Father' of mainframes
He left IBM in 1956, but returned in 1960 to become chief architect of the System/360 family of computers, a daring business and technical gamble that became one of the greatest success stories in the history of computing.
The New York Times, one of several prominent publications to report on his death, stated that the System/360 IBM was announced at the annual shareholders meeting April 7, 1964, in Endicott, New York.
Thomas J. Watson Jr., then chairman and chief executive, singled out Amdahl as the "father" of the new computer. "I remember it very clearly. Gene was so proud of that," his wife, Marian Amdahl, said in an interview with the Times.
In 1970, Amdahl pursued his dream of building his own computers when he founded Amdahl Corporation. His new company made mainframe computers that ran IBM software at a lower cost, capturing nearly one-fifth of the market.
Amdahl founded several other companies in the 1980s, developing advanced computer systems and technologies. He was named a fellow of the U.S. National Academy of Engineering in 1967.
Named State's Centennial Alumnus
In 1988, he was named the Centennial Alumnus of SDSU by the National Association of State and Land-Grant Colleges, which selected a single alumnus from each land-grant school.
He had an honorary doctorate from SDSU and in 1970 was named a Distinguished Alumnus.
In a winter 1988 interview in At State, Amdahl said his first physics course, taken under the late Raymond Reinhart, captured his "interest and imagination. From that time on, I had two goals—understanding the nature of the physical phenomena around me and applying this knowledge to the wide variety of problems of both practical and intellectual interest."
He created the Gene Amdahl Engineering Lectureship Endowment, which is used by the College of Engineering to bring distinguished speakers to campus.
Ranked with Wozniak
The Times quoted Dag Spicer, senior curator at the Computer History Museum in Mountain View, Calif., who compared Amdahl to two of the industry's greatest computer architects.
"He's always been right up there with Seymour Cray or Steve Wozniak," Spicer said, "with real cachet in the technical community."
Amdahl is survived by his wife of 69 years, Marian (Quissell) Amdahl, who grew up on a farm 4 miles from his; two daughters, Delaine and Andrea Amdahl; a son, Carlton; a brother, Lowell; and five grandchildren.