Greg Powell wears many hats. As a city engineer in Chamberlain, he oversees projects ranging from surveying and zoning ordinances to water and road financing.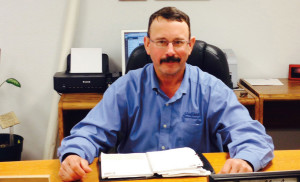 The '81 agriculture engineering graduate also farms soybeans and corn and raises 100 head of beef cattle.
He uses both areas of his degree and enjoys what he does.
Powell has been with the City of Chamberlain since 1996, and is involved with a little bit of everything. He oversees the water, sewer, streets, airport, cemeteries and parks.
He is responsible for road, water line and sanitary sewer inspection; surveying; building permit inspection; nuisance enforcement and seasonal employee hiring. He is also administrator of the Planning and Zoning Board and the Chamberlain Housing Authority Board.
Powell previously worked at the South Dakota Department of Environment and Natural Resources in Pierre, where he worked with water and waste funding and financing. He was instrumental in the advancement of individual communities—setting realistic, and slightly higher, community water rates.
According to Powell, it was difficult because city councils take the heat for changes in city billing. But Powell knew the way the water systems worked, and he knew it was vital for cities to maintain their systems properly, so they wouldn't have to look for state and federal dollars when a problem arose. In order to properly maintain the systems, water bills needed to be raised slightly.
Advanced major rural water systems
"I worked a lot with keeping communities responsible when it came to maintaining water systems, water lines and sewer systems," said Powell. "In these small communities, we couldn't keep letting the systems go down the tube, and then expect to be bailed out when the water system was shot. Cities needed to be responsible for setting appropriate water rates, so they could afford to fix problems as they arose, instead of putting them off until they were completely out of the budget.
"I guess it was my job explaining all of this. In Chamberlain, now, we have fixed water rates that rise around 2 percent each year. When community members see such a small increase each year, it causes less of an uproar and secures funding for common system expenses and issues."
During his time with the state, he spent a large amount of his time working to develop the large rural water systems, including Mni Wiconi, Mid-Dakota and Lewis and Clark Rural Water.
"These were huge rural water systems with costs well over $100 million each," said Powell. Powell's job was to work with the local sponsors, assist in developing financing packages, review engineering design and develop strategies that would rally governmental support in Washington, D.C. "We, the sponsors and state, were trying to convince Congress to support the rural water systems in South Dakota," said Powell, who testified twice in front of a congressional committee.
City engineer
Powell bought a farm in Chamberlain in 1990, and was trying to farm from Pierre. "At that time, I had three kids and was trying to farm in an area that was nearly two hours away," he said. "One year we traveled 48 of the 52 weekends. Carting the family back and forth was difficult."
His family's move to Chamberlain came in May 1996.
Powell and his wife, Terri, have four children.
Clint graduated with an agricultural engineering degree from State in 2006, and works for the U.S. Army Corps of Engineers; Kayci graduated from State's early childhood education program in 2008, and teaches in Sioux Falls; and Connor is pursing an agronomy degree at State. Another son, Carson, died in October 2011.
"I do a lot of different things here in Chamberlain that I wasn't exposed to working for the state," said Powell.
Specifically, and recently, he played a role in creating a mobile search directory website for the cemeteries in Chamberlain. "It was a big project, but it will be helpful for the community and visitors," said Powell. "People can pull into the cemetery, enter the website into their phone, search for their loved one's name and a GPS directory will lead them right to the site."
Powell said he tries to keep up with the changing and evolving technologies, this being a fitting example, but sometimes finances hinder some technical updates.
"It would be nice to have all of our water systems online," he said. "Someday we will have the finances to GPS the exact location of our water or sewer lines. That will save time, but to implement that kind of technology takes money—money that isn't readily available, but will be in the future. With a town the size of Chamberlain, we have to be a little more practical. But we will get there; we'll get caught up."
Community involvement
Because he is not afraid to speak up, Powell has been appointed and elected to serve on several community boards over the years.
He sits on the board of the South Dakota chapter of American Public Works Association, advocating for and representing small communities in South Dakota.
Recently, Powell was asked to serve on the Transportation Advisory Council in Pierre. He is also a member of the South Central Water Development District board.
"That's what happens if you're vocal in city meetings, you get nominated to these different boards," said Powell. "I'm not an expert on anything, but I do know a little bit about everything around the city."
Karissa Kuhle