Ground was broken after the Hobo Day parade for the new Alpha Xi Delta women's fraternity house, the first residence in a new Greek Village neighborhood west of McCrory Gardens on 20th Street.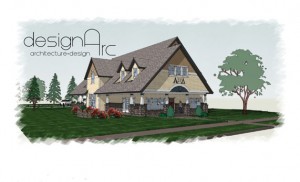 The Alpha Xi Delta house, designed by designArc of Brookings, will contain 6,500 square feet of living space on the upper two floors with 1,000 feet of storage on the lower level.
"The SDSU Alpha Xi Delta Corporation has been preparing for this day for over forty years," says Susan Strickler, corporation president and associate professor of consumer sciences. "This new facility is projected to be under $1 million. Fortunately, we have funds from the sale of our previous home [on the south edge of campus], and we have secured long-term financing from First Bank & Trust."
Between the firehouse at the corner of Sixth Street and 20th Avenue and FarmHouse fraternity, the lots for Greek Village will be filled by Alpha Xi Delta women's fraternity, Chi Omega women's fraternity, Sigma Alpha Epsilon fraternity and the Ceres women's fraternity.
Sigma Phi Epsilon fraternity will build next to the existing Alpha Gamma Rho fraternity. All of the Greek social organizations have been offered lots in Greek Village.
Scheduled substantial completion for the house is August 6, 2012. Houtman Construction Inc. of Brookings is the contractor.