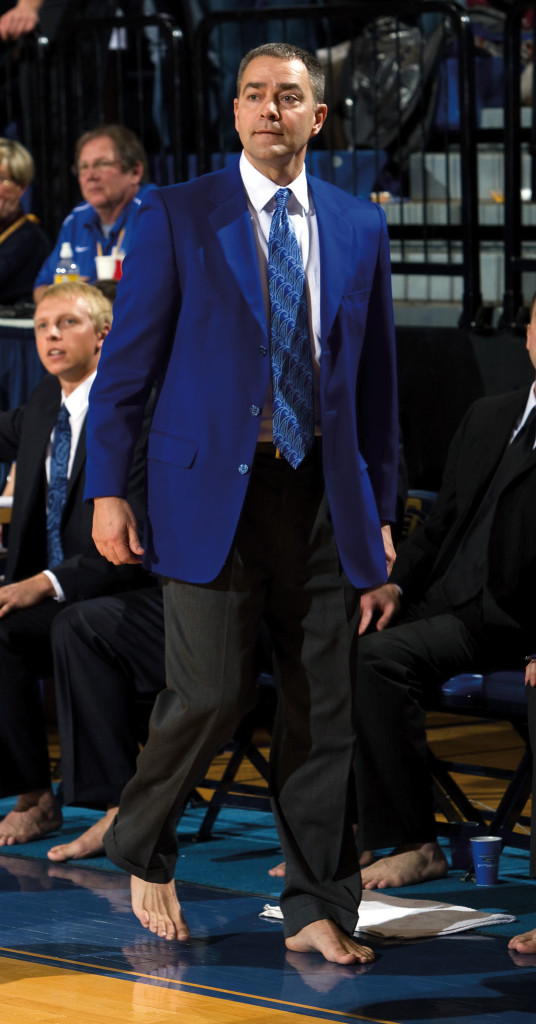 Scott Nagy, the head coach of the South Dakota State University men's basketball team, has patrolled the sidelines at least one game in each of the past six seasons without socks and shoes—not out of superstition, nor for comfort, but to help others.
After he and his wife adopted their daughter from Haiti, Nagy was looking for a way to give back. The next year he began working with Samaritan's Feet, a charity that provides shoes to those in need. Nagy's lack of shoes on the sideline helps to raise awareness—and donations—for Samaritan's Feet. His dedication to the charity made an impact on his players and ultimately led to a team service trip to Haiti.
"We were impressed with coach's work with Samaritan's Feet and just started asking how we could help," said Brayden Carlson of Brookings, a senior on the team. The players had done a shoe distribution with Samaritan's Feet in Sioux Falls but were still looking for more ways to help.
"Basketball is a game, but we can change lives with the stage and resources basketball gives us," said Jordan Dykstra of Rock Valley, Iowa.
After being approached by the players, specifically Carlson and teammate Marcus Heemstra, also of Rock Valley, Nagy contacted the head of Samaritan's Feet to see what could be arranged, and the guys started raising money for the trip. The team, along with coaching staff, a trainer and several boosters, would leave for Haiti on May 8, 2013.
First impressions
"I think Van Fishback put it best when he said it's like trying to get a drink of water from a fire hose," said Nagy. "The first time you see Haiti it's just overwhelming. You've never seen living conditions like what we saw."
The players rode in the backs of trucks as the group traveled from place to place, giving them the perfect vantage point to experience the sounds, sights and smells of their host country.
Carlson remembers the shock of his first hour in the country.
"Coach had been down to Haiti before and so had a couple of the guys, and we'd had meetings with the people from Samaritan's Feet just trying to get some spiritual, emotional and mental buildup—but when we got there it was like something from TV or a movie, not something you'd ever think you'd be a part of," he said. "It's the most eye-opening experience I've had."
Dykstra had been to Haiti with a church trip before he came to SDSU, so he had an idea of what to expect and had his own goals for the experience.
"I wanted the trip to change some of the guys and give a reminder to myself what life is really about, and I can say the trip did both of those things," said Dykstra.
Universal language of sport
The day-to-day activities of the group involved visiting orphanages or churches to distribute food or shoes. One day, with the help of the "Feed the Hunger" organization, the team was able to deliver enough food for 45,120 meals. During shoe distributions, the volunteers washed the feet of those receiving new footwear.
Dykstra will forever remember that humbling act. "The most memorable part of the trip was giving the shoes away after washing the feet of Haitians," he said.
It was nearly impossible for the players and the Haitians they served to communicate verbally without a translator, but the groups found common ground through what the team came to call "the universal language of sport." During one of the first days in Haiti, someone found a Hacky Sack during one of the group's distribution stops. It didn't take long before both the students and the Haitians were kicking it back and forth.
Despite the language barrier, everyone found a way to connect and have fun.
"Any time we could throw a tennis ball around with the kids or organize a pickup soccer game, we were interacting more than we could have even through speech. The games were something we had in common that we could all relate to," said Carlson.

An emotional meeting
For Nagy, the experience was special for another reason. Nagy's 10-year-old daughter Naika was adopted from Haiti, and the trip gave him a chance to make a face-to-face contact with Naika's biological mother for the first time in eight years.
Nagy gave the woman's phone number to the Haitian men who served as guides and bodyguards for the team, and later that same day they were able to arrange a meeting.
"It was certainly reassuring for her," he said. "Her hope is just that Naika is doing OK. We'd video chatted before with a translator, but to have her daughter's adopted dad come down and be able to talk with her and show her pictures was reassuring that Naika is doing very well."
Nagy was also able to obtain photos for Naika of her Haitian family, as well as gather little pieces of information like her mother's nickname.
Back on the home court
Nagy hopes that the service experience helped the players gain perspective.
"It's an event in their lives they can always go back to and look back on. They had this opportunity to give of their time and talent to help these people who are in tough circumstances," said Nagy. "I hope it encourages them to give—whether it's money, time or effort."
Heemstra's efforts to give back have been recognized by his nomination for the 2014 Good Works Teams, which is sponsored by the National Association of Basketball Coaches (NABC), the Women's Basketball Coaches Association (WBCA) and Allstate Insurance Company to recognize a select group of college basketball student-athletes who make significant contributions to the greater good of their communities through volunteerism and civic service. Dykstra is one of the candidates for the senior CLASS Award, which honors the attributes of NCAA Division I senior student-athletes in four areas: community, classroom, character and competition.
"We've always been a close team, but after this I think we have a shared mindset not to take anything for granted and to live every day like it's our last," said Carlson. "We practice like we're thankful for what we've been given and our opportunities. This experience definitely made an impact both on and off the court."
The Fishback family sponsored a film crew to travel with the group in Haiti, and the video footage is in the process of being turned into a documentary to raise more awareness for the plight of Haiti and to encourage donations for future trips with similar goals.
Madelin Mack