From D-Day to post-Vietnam, small man leaves big impact
Four-star General William E. DePuy looked toward a banking career when he enrolled at South Dakota State in 1937.
Reserve Officer Training Course was required for male freshmen and sophomores then. For the sake of the U.S. Army, it's a good thing it was. The economics major excelled in the ROTC program, and at the suggestion of his professor of military science, Col. James Murphy, DePuy decided to continue beyond the required two years.
In the course of a 36-year military career, the 1941 graduate directed troops in the D-Day invasion of Normandy, was sent to Vietnam in 1964 and became known for his command of the "Big Red One" 1st Infantry Division, and in the post-Vietnam era worked to reorganize and streamline the Army.
When he retired in 1977, DePuy was the commanding general of Army Training and Doctrine Command, the organization in control of ROTC programs such as the one he got his start in at SDSU.
The ROTC Armory at State was renamed DePuy Military Hall at a Dec. 11, 1987, ceremony overseen by Lt. Col. Orville Smidt.
DePuy was on campus about a decade earlier (May 1976) to receive an honorary doctorate and to commission the first four female ROTC cadets in the nation, one of whom was SDSU student Lynn Simpson Pierce. At the time, DePuy was the only Army general to have gone through an ROTC program.
He remains the only SDSU graduate to earn the rank of four-star general.
Extols value of ROTC training
During the military hall dedication, DePuy said more than half of the U.S. military officers come from land-grant universities. "There is no other way to officer the armed forces than by this system. There is nothing more important than keeping this program under way."
During a later banquet address, DePuy said, "The natural leaders of our country flow through these institutions and find their way into public and private endeavors."
Referring to his military education, DePuy said, "The preparation I got was as good or better than anybody got anywhere else. Every year it gets better." In a press report, DePuy said the program in 1987 was "light years ahead" of his military education.
But any training has its limits.
'Never prepared for war'
At a press conference held in conjunction with the military hall dedication, DePuy was asked if his SDSU education was adequate preparation for his military career. He hesitated a long moment and said, "You're never prepared for war. War is a shock."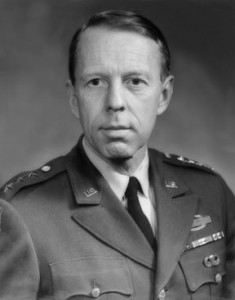 DePuy learned that at young age.
He moved to Brookings from Jamestown, N.D., in 1935, in the middle of his junior year. In his senior year, DePuy called signals for his football team while playing at the tailback position. By June 8, 1944, the wiry Brookings High School graduate was landing on Utah Beach.
DePuy was serving with the 90th Division, the second division to land on the beach at Normandy during D-Day.
The battalion officer fought through the hedgerows of Normandy. He witnessed the loss of 100 percent of the 90th Division's soldiers and 150 percent of its officers. DePuy was named regimental operations officer Dec. 4, 1944, and provided much-needed leadership.
In the next six months, he would lead his battalion in heavy fighting across the Moselle River, through the Siegfried Line, and on to Czechoslovakia at war's end — earning the Distinguished Service Cross, three Silver Stars and two Purple Hearts.
All experienced before turning 26.
Dave Graves