A decade of change has given the university a new look, direction
There was a great debate taking place across South Dakota 10 years ago.
The question: could a South Dakota university become an NCAA Division I institution and compete at the highest level of intercollegiate athletics? South Dakota State University thought so and it did.
SDSU is now firmly entrenched as a Division I school and moving forward on many fronts. While the move from Division II to Division I was accomplished during the five-year transition period as required by the NCAA, the process to obtain the authority from the Board of Regents to proceed wasn't exactly smooth sailing.
"The change was tougher than what we had thought it would be because it was made into a statewide issue," recalls Peggy Miller, who served as SDSU's president from 1998 to 2006. "I knew we could do it, though. With a few hard knocks, a lot of work and a few sleepless nights, we got it done."
Before the process could move forward, correcting misinformation was the immediate task, according to Miller. She recalls a meeting where a speaker told the audience that going Division I would bankrupt the school.
"Wrong information like that had to be cleared up because it upset a lot of people before they knew all the facts," she says, noting the Board of Regents convened a statewide hearing in Sioux Falls after receiving pressure to stop SDSU.
"Our loyal alums and friends turned out and supported us magnificently, and in the end, the governor's support and the facts and the strength of the programs carried the day."
Self-confidence
The early battles were well worth the end result, according to Miller.
"In the final analysis, Division I has provided so many opportunities for the students," she says. "It has allowed the university to show the nation what high quality and talented young people there are in South Dakota and in the region."
Current SDSU President David Chicoine points out that going through the transition process gave the university a good deal of self-confidence that stretched to all corners of the campus.
"I think there is certainly a correlation," he says. "It gave everybody involved in the institution the opportunity to gain self-confidence and with self-confidence comes the ability to reach out more to determine your own future.
"The decision to stop being what we are, to seek to be something different, was a defining moment for this institution. The transition is over and done with. We are who we are today—a strong and growing Division I institution that has demonstrated it can consistently compete successfully at the highest level of intercollegiate athletics."
Growth for athletics
After five years in the transition mode, SDSU intercollegiate athletics officially became a full-fledged Division I operation in fall 2008 and what a story the Jackrabbits have written so far.
SDSU has won in a big way as evidenced by two Summit League Commissioner's Cups, the South Dakota Corn Utilization Council Showdown Series trophy, two football playoff appearances, two NCAA men's basketball appearances, five straight NCAA tournament trips for women's basketball, and NCAA tournament berths for volleyball, soccer and baseball.
In 2012-13, SDSU joined Louisville, Oklahoma, Oklahoma State and UCLA as the only schools in the country to make post-season appearances in football, while qualifying for NCAA championships in men's basketball, women's basketball and baseball.
Academically, Jackrabbit student-athletes were as sharp as ever. In fact, in 2012-13 they posted a 3.26 cumulative GPA—an all-time high for one academic year.
"Our student-athletes do a great job in the classroom, and they embrace being positive role models by doing a lot of community service," says director of athletics Justin Sell. "When you combine their quality of character with the quality of character of our coaches who recruit and coach them, and you tie that in with winning, it positively impacts everything."
During that same time frame, the athletic department experienced dramatic changes in ticket sales, Jackrabbit Club membership, corporate sponsorships and donor support.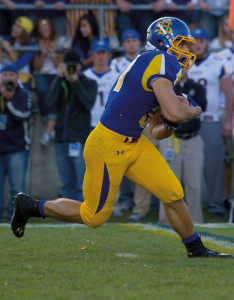 • In 2009, the Jackrabbit Club showed 865 members who generated $322,000. As of July 2013, funds stood at $837,778 from 1,630 donors.
• Corporate sponsors produced $838,276 in 2009. Sponsorship money grew to $1.28 million four years later.
• In 2009, ticket sales netted $878,000. In 2013, it was $1.64 million.
• Athletic scholarships cost $842,000 in 2009. In 2013, scholarship expenses were $3.21 million.
"The fact that can't get lost is that people are willing to invest—invest in season tickets, in scholarships, in donations and donations to facilities," says Sell. "As an individual or corporate partner, investments are made in a program that people believe in."
In 2009 SDSU's athletic budget was $10.5 million—now it's $14.7 million.
"That's phenomenal growth for any institution, but for a university of our size in particular—and based on the economy—it's quite an accomplishment," says Sell.
The extra $4 million has "helped fund this program to allow us to be successful, whether it's putting money into scholarships, for additional coaches, staffing positions or improved facilities for academic support, practice and competition.
"We have invested those additional resources back into the program to help the student-athletes at our university succeed."
Completing his fourth year, Sell remains in awe of the Jackrabbit experience.
"There are no more passionate people about their university than Jackrabbits," he says. "I've been all over this country and worked for universities who I think do things the right way, but SDSU people take it to another level that I haven't seen before. It's phenomenal—they wear our school colors with pride."
Different mindset
According to Laurie Nichols, provost and vice president for academic affairs, SDSU's mindset began to change as the transition to Division I began.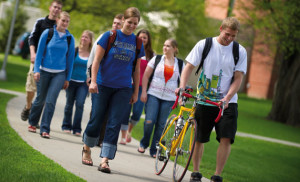 Since 2003, the university has launched Ph.D. programs in nursing, pharmaceutical sciences, computational sciences and statistics, electrical engineering, nutritional sciences, wildlife and fisheries sciences and there are plans for three more Ph.Ds. In addition, 32 undergraduate and master's programs hold specialty accreditation with plans to accredit 10 more programs.
"We started to see ourselves as a higher- performing university with much more potential in terms of what we could do," says Nichols. "In fact, we have become more of a research-intensive university and with that came a whole different view of our academic programs and our faculty profile.
"We weren't satisfied being a master's comprehensive university anymore. We started setting higher targets and goals." In 2006 SDSU was recognized as South Dakota's first high research activity institution by the Carnegie Foundation.
Nichols acknowledges that Jackrabbit athletics provided the early momentum that was soon felt across campus.
"Athletics is really a unique public entry to the university. As we moved into a bigger world and our student-athletes started to successfully compete in Division I, everybody paid a little more attention. I do think many of our alumni rallied around us in ways they probably hadn't done before.
"Private giving to departments, colleges and the university grew. We started to see more resources going directly to academics which contributed to growth."
Nichols says Division I impacted the entire university. "The whole institution has been lifted up. Even though it's hard to directly contribute it to Division I, there is a correlation, no question."
More research expenditures
Vice President for Research Kevin Kephart indicates that Division I has aided the school in recruiting high-quality faculty. At the same time, faculty members are more focused on conducting research and competing for grants.
"The expectations of faculty to be more engaged in research has certainly increased during the last five to six years," he says.
When examining the state of research activities, Kephart likes what he sees when comparing SDSU to peer institutions, namely Kansas State, Idaho, Colorado State, Montana State, North Dakota State, Wyoming and Montana.
According to the most recent data available from the National Science Foundation, from 2004 to 2011, SDSU shows the third-fastest rate of research expenditures with $6.3 million per year—that's ahead of North Dakota State ($4.5 million) and Montana State ($4.0 million). Colorado State and Kansas State rank first and second, respectively at $15.5 million and $7.3 million.
In 2011, SDSU ranked No. 175 nationally with total research expenditures of $69.6 million. Seven years before, the school was at No. 199 with $29.5 million.
"We've done a remarkable job in a very short period of time," says Kephart. "We have a goal of reaching $115 million by 2018, according to the university's strategic plan."
There are plans in the works to put together donor and other support for the Bioscience and Engineering Interdisciplinary Research initiative, including a new interdisciplinary research lab.
"This lab will really ramp up our research capacity, if we can make it happen," says Kephart.
Can-do attitude
Steve Erpenbach, president and chief executive officer of the SDSU Foundation, offers that the move to Division I has put SDSU on a different plane that's reflected in new academic programs, expanded research and success in athletics.
With the goal of being successful in those areas, Erpenbach says the same can be said of the increase in financial gifts to the foundation.
"There is a can-do attitude that exists on this campus because we were determined and thought we could be successful—people just believed."
The Visions for the Future Campaign produced $50 million for SDSU in 1998. By contrast, It Starts with STATE: A Campaign for SDSU that wrapped up in 2012 generated $255 million.
"What the move to Division I did was it just proved that we should set our sights high, that we can be bold, and that translates to all areas of our university," says Erpenbach.
At the end of the day, he says it's all about how people feel about their alma mater.
"People are standing a little taller these days because they see the successes that have been achieved. People have an enormous amount of pride for how well their university is doing, how far it's come.
"People are looking beyond the horizon and asking, 'why not?' They want to be part of it and invest to help make it a reality. It's not that they haven't always been proud of SDSU—it's just that they are even more proud now."
Kyle Johnson