Ben Duenwald grew up with plans of helping feed the world. He just didn't think he'd try to do it with doughnuts.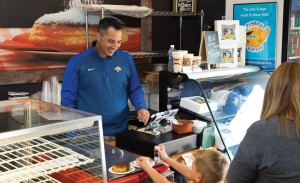 After growing up on the family farm near Hoven, Duenwald '01 earned a bachelor's degree in agriculture systems technology with an idea of returning home.
However, that didn't happen.
After nearly 15 years in food production in Minnesota and Sioux Falls, Duenwald received the opportunity to buy Flyboy Donuts in September 2014.
"I didn't know if I was coming or going at the start," he said, noting he was the lead baker then as well as running operations. "It was a leap of faith."
That leap now includes a delivery van and food truck that helps the firm scout possible locations for a second Flyboy Donuts location in Sioux Falls. Duenwald's business model now includes a coffee-roasting business, which he'll brand as Flyboy Coffee.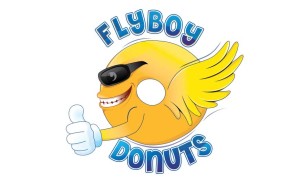 "Coffee and dough are both dynamic products where freshness and quality are key," Duenwald said.
Using his experience as a plant supervisor and business sense gained from the family farm, Duenwald worked through staff and process changes to increase Flyboy's efficiencies. The company has grown approximately 30 percent each year, and he said staff changes now are due to growth. Flyboy is busy, making at least 3,000 doughnuts daily. What doesn't get sold on-site or wholesale, goes to charitable organizations at the end of each day.
"I was a stay-at-home dad for six months before buying Flyboy. I realized I wanted to do a career change for my family," he said, noting he and his wife, Carolyn '01, have three daughters, Brianna, Alexa and Kelsey.
When Duenwald was at State, he had three sisters also on campus. One of them, Stacy '00, also works at Flyboy. Ben was the seventh member of his family to receive a degree at State.
"For me, State was the best option," Duenwald said. "It was the way to go for ag, and agriculture is diverse. The knowledge I gained there helped me land a salaried, entry-level position at a food production plant and helped me continue that path until Flyboy came along."