The fertile soil in Faulk County is good for more than growing wheat and corn. It also produces an abundance of Jackrabbits, especially for those raised in a Schilder household.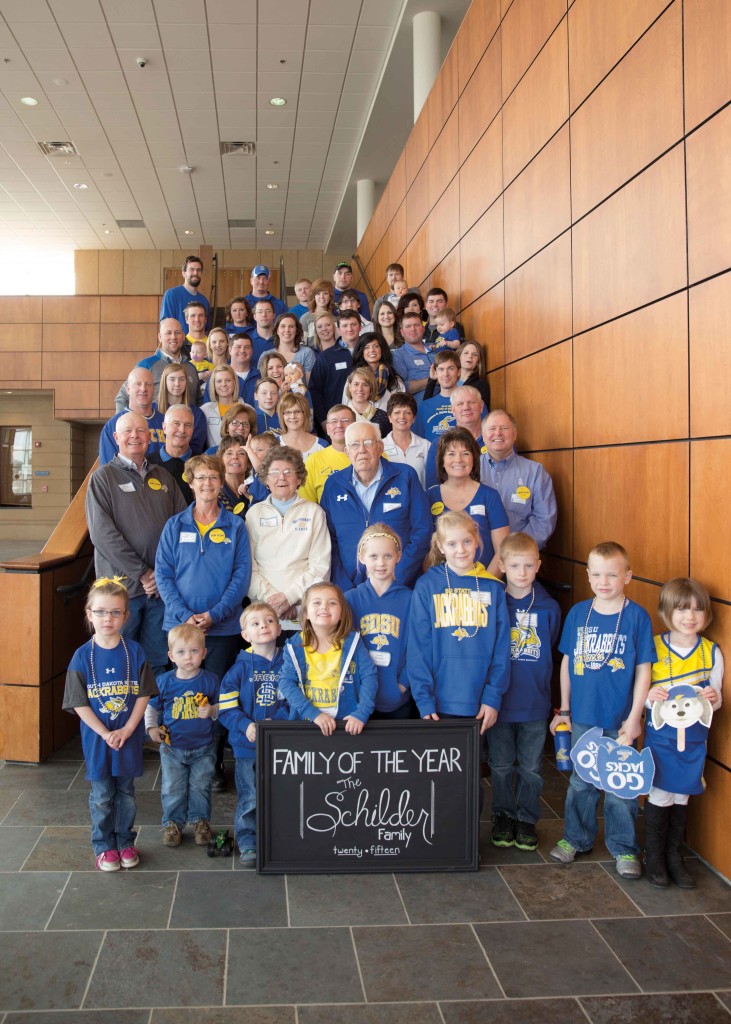 The SDSU Alumni Association took note, and in cooperation with Staters for State, the student alumni organization, named the William and Joyce Schilder family the 2015 SDSU Family of the Year. The family, with roots in Faulkton, was recognized at halftime of the Feb. 21 women's basketball game.
The Brookings school has been the college of choice for the family since Bill (William Jr.) came to State in fall 1967.
In the years that followed, siblings Julie, Bruce, Joline and Brent followed Bill's lead with all five earning degrees. Four of their spouses also attended SDSU and three of them got their degrees from State.
In 1992, less than a decade after youngest child, Brent, graduated (1983), Bill's oldest child was on campus. Each of the five children of William and Joyce have sent children to State. All told, 21 grandchildren and spouses have attended State as have two sons-in-law and two daughters-in-law.
Given that sons Bill, Bruce and Brent grew up helping their dad on the farm, it's not surprising that all three earned ag degrees.
SDSU felt like home
Daughters Julie and Joline both went into education. By the time Joline (Schilder) Dunbar graduated from Faulkton High School in 1978, her three older siblings had already set the trend. "I know that I never looked at another college and I am 100 percent sure none of my siblings did either. I can't even think of any of them thinking about going elsewhere, it was all just automatic," she said.
However, it wasn't through parental dictate. In fact, "Nobody discussed where you were going to go to college," Dunbar said.
By visiting siblings, SDSU quickly felt like home, she said.
"Hobo Day and Little I were huge. Our band came down and played in the Hobo Day Parade. It was a really big deal when you got to go to Brookings. And because Faulkton is such an agriculture community, all of our friends were on campus. There was a huge connection," Dunbar said.
Into the next generation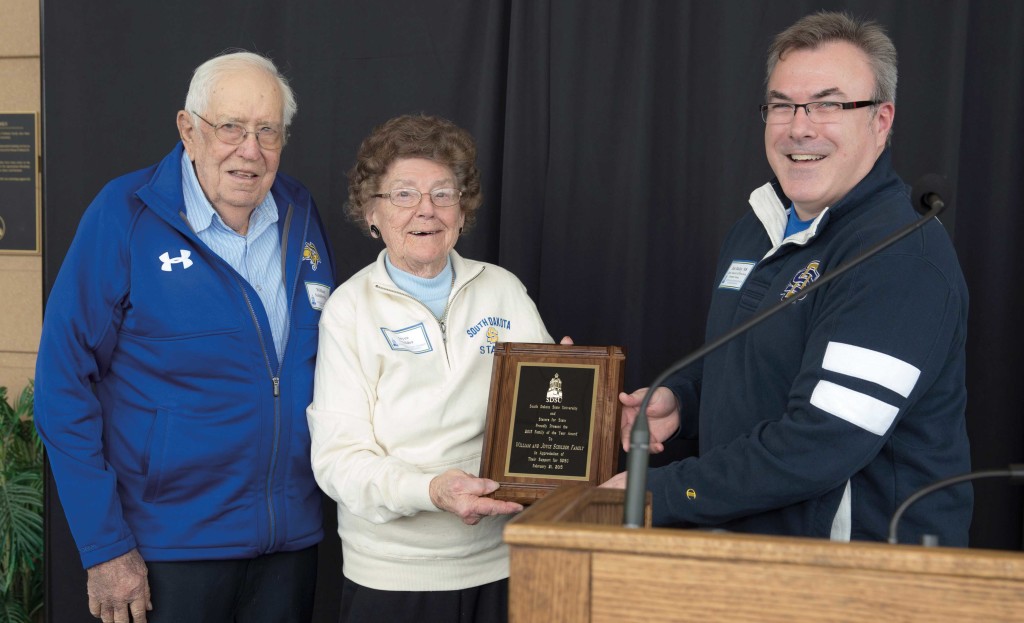 The following generation brought more diversification in academic interests, but not in schools. The vast majority attended SDSU.
"Face it, SDSU has a lot to offer. SDSU offers so many degrees," Dunbar said.
Shannon Schilder, the youngest child of Brent and Carol Schilder and a 2012 Faulkton High School graduate, is now a junior at State majoring in ag business. "I really wanted to get an agricultural-related major. I wasn't sure what at the time, but I knew SDSU was a good ag school.
"I looked at Southwest State (Minnesota), to do just business, for maybe a week, but I was pretty much set on SDSU since I was born," she said.
There was a comfort rather than a pressure to continue the family tradition. "Mom and Dad said I could do whatever I wanted. But my sister (Katie Hansen '14) was here and I knew I would have her to help me out. And my cousin (Bailey Schilder Raml '12) is here, too," Shannon Schilder said.
Building close relationships
She is slated to graduate in May 2016 and will be the first Schilder female to graduate with a noneducation degree.
Three of her Faulkton classmates also are on target to graduate this year or next, not bad considering there were 20 in the FHS Class of 2012. In fact, nine enrolled at State. She said while living in Hansen Hall her freshman and sophomore year, there was still that close-knit, small-school feeling.
Schilder said she had some large classes as a freshman and didn't know anybody else in class.
But as she has progressed in her major, "I've had classes with a lot of the kids since I was a freshman. I've been able to build relationships and am comfortable within my classes now," said Schilder, who adds that she also is comfortable in Brookings.
"I love Brookings and the small-town feel. I know where everything is. It feels like home. I want to live in Brookings" after graduation.
Plus, it will give that next generation of Schilders just one more reason to feel comfortable at SDSU.
Dave Graves