It's a major game changer for three programs on campus.
The Performing Arts Center expansion will add 96,000 square feet onto the existing structure completed in 2003, creating a home for the future School of Performing Arts and complete the project. The building will house music, theater and dance classes, practices and performances.
The $50 million project will add a black box proscenium theater, seating around 850 people. A small recital hall seating 225 people along with a state-of-the-art dance studio, classroom and office spaces are part of the expansion as well. The programs currently use four spaces in three other buildings besides the Performing Arts Center. This expansion allows spaces in Pugsley Hall, Doner Auditorium and Lincoln Music Hall to be vacated. Music department head David Reynolds said the expansion will greatly impact the nearly 1,000 students who use the performing arts facilities.
The expected completion date is January 2019.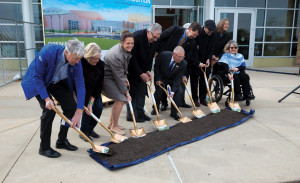 "This is going to become the go-to facility for all sorts of public presentations, performances and activities that we haven't even thought of yet, because we haven't been able to think that way," he said.
A formal groundbreaking was held April 28, although construction began earlier in the spring. With $1.5 million yet to raise to meet the fundraising goal, First Bank & Trust stepped forward with a Performing Arts Center Matching Challenge. First Bank & Trust and the Fishback family will match all new gifts and pledges—dollar for dollar—up to $750,000.
Thanks to a collaboration of some of the departments within the future School of Performing Arts, "An Evening with Harvey Dunn's Feminine Images" was created. Projects such as this one put the idea in Reynolds' head along with other faculty of what kind of productions come from collaboration.
"I anticipate that these sorts of creative projects are going to be more frequent, and that both the students and the public will benefit from the faculty's collaborative endeavors," he said.
Scattered faculty
Currently, the music department primarily holds classes in Pugsley and Lincoln. Reynolds said it feels great knowing they will have a space created specifically for the arts.
"No other place on campus was built for music in mind. We are in an old library and we are in an old ballroom—none of those spaces were designed with music in mind. That presents a lot of difficult constraints in concerns of what we program," he said.
Julia Okerman, who recently completed her freshman year as a music major, uses the current music facilities not just for classes, but also for playing trumpet and the flugle horn for the SDSU Wind Symphony, Jazz Band and The Pride of the Dakotas Marching Band. She is looking forward to the PAC expansion.
"It [Lincoln Music Hall] gets the job done, but it's old. You can tell it's past its prime," said Okerman, who is from Fairmont, Minnesota.
With music being spread over multiple buildings, Okerman has to practice and perform in different buildings, requiring her to haul her instruments and other equipment.
"It [the PAC] will be much more convenient," she said. "It's really exciting that everything is going to be in the same building and be nice."
In January 2019, students can practice and perform with ease. In the future facility, the number of practice spaces will be doubled. Students can practice after class hours, simply gaining access to the rooms with a simple scan of their student ID.
A 4,000-pipe organ purchased specifically for the expansion is part of the project. Built in the 1960s, the organ was one of the top five pipe organs in Colorado. It was at Johnson and Wales in a campus chapel, but was put up for sale once the college changed hands.
"It will be a hallmark for this facility," Reynolds said.
Outdated Space
For theater, department head J.D. Ackman said its future home gives plenty of opportunity for students. Current theater productions are held in Doner Auditorium, a space Ackman said is incredibly small and outdated. Over time, seat capacity has been reduced due to fire codes, and the small stage doesn't allow for very large sets. For example, what was once the orchestra pit is no longer allowed to be used for theater productions.
"It has been good for set designers who need a challenge," he said. "This project, the new theater, will be so much more than the minimum."
The new black box proscenium theater will have a higher seating capacity, a larger stage, individual dressing rooms and an orchestra pit. Ackman said that the new facility will allow productions to be executed more fully and for more interaction between the departments. He said the new facility will not only help recruit students to the future School of Performing Arts, but will also help the programs within it become accredited.
Students who will not be enrolled in the School of Performing Arts will still have the chance to reap the benefits of the expanded PAC. In fact, a large majority of the donors to the expansion project were not music or theater majors, but participated in activities related to them.
"So many students participate in The Pride, Statesmen, Women's Choir and it's always been that way," said Rina Reynolds, the SDSU Foundation's development director for the College of Arts and Sciences.
Make a difference
She said these donors have connections to the organizations that will benefit from the PAC expansion.
"They want to make a difference for students, and that's really their motivation," she said.
Gathering the funds for the project has been no easy task. The Foundation has had an official campaign for this project for 10 years.
"Every project has its life cycle and some of them do take longer based on timing and donor interest," said Keith Mahlum, SDSU Foundation vice president for development.
"The thing that is most satisfactory for us is that there are decades of donors who finally get to see this vision come true."
Thanks to donations and support from a variety of areas, the expansion is coming to fruition.
"The unique makeup is kind of how the funding came together. You have $6 million that came from the city, $13 million that came from the students through HEFF funds, $23.2 million from donors and $6 million from the university," said Steve Erpenbach, SDSU Foundation president.
With construction underway, ground for the expansion officially broke April 28. Now, those who await the new facility can see the building process begin.
"There have been a lot of people waiting a long time for this to happen," David Reynolds said. "The idea of putting all those creative people under one roof, we will be doing things three to four years from now we never thought we would be able to even try."
Heidi Kronaizl