Four South Dakota State graduates share flying passion
Looping a one-seat plane 500 feet in the air, at 160 miles per hour, less than 5 feet from three other planes sounds … crazy.
But for four South Dakota State graduates, it's an adrenaline rush.
Kollin Ellis, Gary Kuhns, David Myers and Aaron Werner have a few things in common—their alma mater, a passion for flying and a love for aerobatics.
While each man's flying career has reached different heights, their passion fuses for their Vanguard Squadron aerobatic airshows.
Each performs a unique role on the team, but together they and seven others put on a season of airshows each summer.
While the airshows feature four planes, the team of 11 works on the routines and maintains their six planes.
The team, which officially began performing in 1993, initially formed in the '80s.
In the beginning, the team flew planes manufactured by a company named Vans, and almost all the pilots were members of the National Guard—hence, the decision to call the team the "Vanguard" Squadron.
Their season—which includes 10-15 events—begins in May and ends in the early fall. This year, their last event scheduled is a flyover for the Hobo Day football game.
"It's only a 20-minute flight up to Brookings, so it's no different than practicing," said Kuhns. "We enjoy flying up to State, and it's good exposure."
The team has more than 3,000 flight hours using 98 to 99 percent ethanol. The pilots share their love for flying and raising ethanol awareness by performing in airshows across the country.
Since the early '90s, the squadron has used ethanol as their main fuel source.
POET—a leading ethanol manufacturing company based in Sioux Falls—provides the team with 4,000 gallons of ethanol each year.
The pilots agree that flying with ethanol gives them more power during their maneuvers.
A Vanguard show lasts 10 to 12 minutes and features anywhere from six to 12 maneuvers.
The squadron tries to practice their routines weekly. Keeping safety the highest priority, the group prepares the planes and reviews the routine on the ground in case something goes awry before going in the air.
Once the team starts practice, another team member videotapes them. The pilots then critique and rework any concerns.
According to the pilots, flying is much more difficult on hot summer days when the uneven air columns make the ride rougher. The team performs at about 140 knots, which is equivalent to 160 miles per hour, depending on the wind and weather.
Myers said there are usually no issues during their shows, but they have a plan if one falls behind. "On rare occasion we will have to loop back and redo a maneuver," said Myers. "But we work through those instances beforehand, so we are prepared."
State alums, team members
The first State grad to fly with the squadron was Gary Kuhns.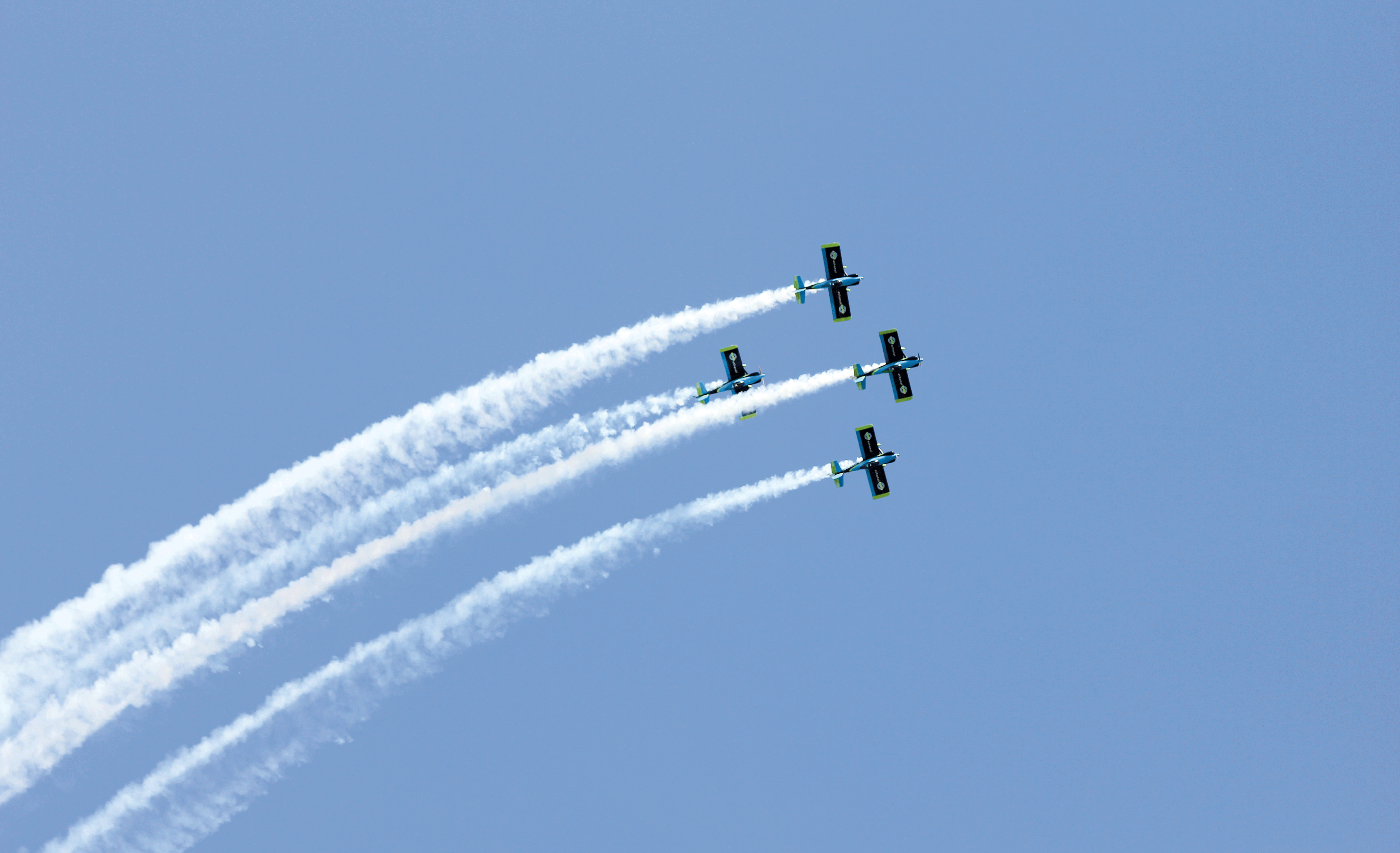 He has been with the squadron from its humble beginning.
"I've had a love for flying my entire life," said Kuhns. His interest in planes started when he was 8 years old. Kuhns remembers riding his bike to the Watertown airport and, "just sitting and watching the planes take off and land," he said. "Once in awhile I got a ride from one of the pilots."
Through that early experience, Kuhns' interest in aviation accelerated, and he started taking lessons at the Watertown airport when he was 20.
In 1969, Kuhns came to SDSU to work on his instrument certification, and instruct flying courses, which he did until 1971.
Then in 1972, Kuhns decided it was time to get a college degree and graduated with a Bachelor of Science degree in health, physical education and recreation with an athletic training minor in 1976. An aviation major and minor was not offered at that time.
Kuhns moved to Sioux Falls in 1980, and had the opportunity to buy a plane with Marv Randall, a pilot with the South Dakota Air National Guard.
Randall taught Kuhns how to formation fly, and then eventually, along with Bob Ellingson, another pilot, the three got the Vanguard Squadron going.
"Marv and Gary [Middlebrooks] taught us formations," said Kuhns. "With lots of time and training, we put together this formation aerobatic team."
Kuhns flew as head pilot during the shows until he let a new pilot take over his position in 2009.
While Kuhns has retired from performing, he's not done flying. "When I can go with the team to shows, I'll announce for them, and I still practice with them," said Kuhns.
"I stepped down from flying the airshows because we have 10 others who fly. I'm happy watching them because I know it's a riot flying on those calm 72-degree days."
Even though Kuhns enjoys rolling a plane through the air at 10,000 feet, he said he doesn't feel comfortable in glass elevators or anything else high up. "I guess I feel more in control in an airplane," he said. "I trust myself and my teammates up there."
Right wing: David Myers
David Myers '88/'92 was the next alum to fly a spot on the squadron, and currently flies right wing.
Growing up on a farm north of Flandreau, Myers was always fascinated by the planes that flew overhead. Now, through his time with the Vanguard Squadron, he gets to inspire others.
"I remember lying on the haystacks looking at the contrails of planes that went by," he said. "I've always had an interest in flying."
Myers has gone from someone watching those condensation trails to someone who makes them.
Myers, who received his bachelor's degree in agriculture education, bought a Cessna 140A shortly after taking his first job. He came back to State and received a master's in counseling and human resource development in 1992 and has spent the past 15 years at Sioux Falls Lincoln.
"I used to go to the Tea airport and just watch the airplanes," he said. "I talked to a few of the members after seeing them flying around. I joined and started by doing grunt work—sweeping and cleaning."
Working with Kuhns for approximately two years helped Myers move from being a "a general pilot to a formation acrobatic pilot."
"It's a whole lot of fun, but it takes a great deal of work to put these shows on—physically and mentally," said Myers. "All year we are doing plane maintenance, upgrading aircraft and reworking our shows."
While safety is the first priority, Myers admits there is a thrill flying for the Vanguard Squadron.
"We're in the process of adding maneuvers for crowd participation," said Myers, noting they're looking for crowds to cheer for which pilot does the best loop. "It takes a lot of patience and a lot of time."
Left wing: Aaron Werner
Aaron Werner is fairly new to the squadron, but his flying expertise makes him a valuable team member.
He knew he wanted to be a pilot from the time he was a little kid. Whether he was drawing pictures of planes, or playing with toy model versions—planes played a special part in his childhood.
A middle school Boy Scout trip landed Werner at the Tea airport where he had the chance to ride in one of the planes. From then on, his interest in aviation accelerated.
After graduating from Lincoln High School in 2002, he enrolled at South Dakota State. "I liked that SDSU's aviation program wasn't huge," said Werner.
In college, Werner spent a lot of his time at the Tea airport. "I got to know some of the other pilots that were on the Vanguard team," he said. "Steve Thompson [squadron slot pilot] would take me up and show me different maneuvers. I really had an interest in aerobatics and formation flying, I just didn't have the experience."
Werner said it didn't take long before he was hooked on the aerobatic aspect of flying.
After graduating with a Bachelor of Science degree in aviation in 2008, Werner was selected for a job as an F-16 pilot for the South Dakota Air National Guard.
In 2012, Werner crossed paths with Middlebrooks again, and found out the Vanguard Squadron was looking for another team member.
Werner accepted, and after several months of training and practice, he began flying left wing in the airshows.
"It's great flying with the team, but it takes a lot of work," said Werner, whose favorite stunt maneuver is the hammerhead.
"The crowd loves the shows, and we have kids run up to us once we've landed and ask for our autographs. It's a great experience."
In training: Kollin Ellis
Kollin Ellis is the newest State grad to fly with the squadron. He's currently involved in training, and come next summer, his schedule will allow him to fly in airshows.
Ellis, a 2003 State grad, didn't have aviation on his radar until he flew with a friend his freshman year of college. At the time, Ellis was enrolled in the economics program, but something wasn't adding up for him.
"A friend of mine gave me a ride in his two-seat Taylorcraft, and after that, I was hooked," said Ellis. "I just fell in love with flying and wanted to find a way to do it for a living."
Ellis worked his dream of serving in the military into his new flight plan. "Military service runs in the family," said Ellis. "My dad, grandpa and uncles were all in the military, and I knew I wanted to go that route, too, so I decided to start working on planes."
After his first semester at State, Ellis began his initial air guard training in aircraft avionics in Texas. When he returned to SDSU in January 2001, he began flight training.
The aviation program was just starting when Ellis returned. "The professors were figuring out what parts of aviation to emphasize so that the program could be unique," he said.
Ellis took summer courses to catch up, and graduated in May 2003 with a Bachelor of Science degree in aviation.
Ellis started working as an F-16 pilot with the South Dakota Air National Guard when he met Middlebrooks. "Gary mentioned that I would be a good fit for the squadron, and offered to help me get started," said Ellis.
Now, Ellis is completing the necessary training, and will perform with the team next summer.
The squadron typically practices airshow routines south of Tea. "It's sparsely populated there, and it's fun to buzz over my hometown," said Ellis, a Beresford native.
"Flying with the Vanguard is a blast. I absolutely love it," said Ellis. "I love flying for the squadron almost as much as flying F-16s."
Aerobatic flying isn't Ellis' only precarious pastime, he also loves skydiving. He started skydiving while he was in avionics school, and picked up the hobby again last fall. "It's an adrenaline rush," he said. "And it's addicting."
Each of these four pilots has a knack for flying aerobatics, and their talent spills into each of their shows. And while spinning a small plane through the air may seem daunting, it's strategic and a central part of each pilot's career.
"We've met a lot of great people through the Vanguard," said Myers. "Showing others the love we have for flying has been a gratifying experience."
The group opened its 2014 season with the Thunder Over the Valley Air Show in Youngstown, Ohio, May 17-18. They also competed in shows at La Crosse, Wisconsin, May 31-June 1; Canby, Minnesota, June 15; and Baltic, July 24; upcoming shows include Yankton, Aug. 16; Duluth, Minn., Aug. 22-24; and Detroit, Sept. 6-7.
For more information on the Vanguard Squadron, visit their website www.ethanolairshows.com.
Karissa Kuhle