Rich and vibrantly colored prairie paintings by artist Harvey Dunn illustrate his "Depictions of Weather," a collection of paintings on exhibit at the South Dakota Art Museum.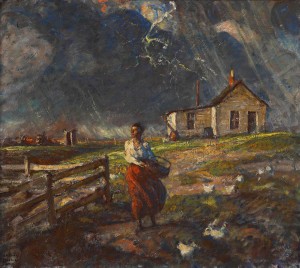 Seventeen large, oil-on-canvas paintings in the museum's collection of more than 100 Dunn paintings, illustrate seasonal weather. His weather paintings will be on display until Dec. 2.
Dunn's portrayal of weather demonstrates the ever changing, South Dakota conditions detailed in his prairie homestead images.
The artist used a distinct color palate and differing cloud formations to depict settler emotions as they encountered weather extremes. Pioneers were forced to pay close attention to weather patterns for survival of crops, animals and themselves.
Dunn recognized the relentless concern South Dakotan's had for weather and portrayed their associated feelings in his paintings.
Dennis Todey, state climatologist and associate professor of agriculture and biosystems engineering at SDSU, studied each painting and made comments on display cards next to each painting.
The climatologist identified cloud and sky color in association with the season, time of day and region the image represents.
Todey says that each painting shows a predictable and identifiable scene distinguishing both eastern and western South Dakota.
For example, "30 Below," one of Dunn's paintings, captures the struggles pioneers faced during prairie winters. Blue, white and yellow hues transport viewers to a sub-zero winter day. Smoke rolling from a chimney, struggling horses and snow blowing off a roof illustrate harsh winter weather conditions on the prairie.
"You want to paint something that a man looking at will say: 'Yes, I've been to places like that; I know what kind of day it is.' He makes it something of his own and because he does, he wishes to possess it," Dunn said in "An Evening in the Classroom," notes from a painting class he taught in 1934.
Dunn was born March 8, 1884, in a shanty near Manchester, S.D. He was the second of three children born to Thomas and Bersha Dow Dunn and attended a one-room school.
His talent for art was recognized early on, and he was accepted into the South Dakota Agricultural College, which became South Dakota State University. His professor — Ada Caldwell — encouraged him to enroll in the Chicago Art Institute, where his talent was shaped further. He became a well-known artist and illustrator who used images of his native prairie for many of the paintings in the SDAM collection
South Dakota Art Museum, 936 Medary Ave., is at the junction of Medary Avenue and Harvey Dunn Street on the west side of campus.
Hours are 10 a.m. to 5 p.m. Monday through Friday, 10 a.m. to 4 p.m. Saturday and noon to 4 p.m. Sunday.