After climbing on a bull at the age of 12, Don Reichert '68 enjoyed the ride and would not get off until he hit the age of 40.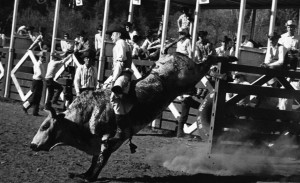 Along the way, Reichert became the only two-time national champion in South Dakota State Rodeo Club history. He won the 1966 and 1968 National Intercollegiate Rodeo Association Bull Riding Championships and numerous rodeo events during his time at State.
His rodeo career continued after graduation despite stops in education, broadcasting and in sales.
"I turned 40 and thought it was time to stop. It took a little more work to stay in top physical condition, and I would pull muscles that I wouldn't have thought about, much less injured, in my 20s and 30s," he recalled from his home in Hartford. "The whole family went along. We went to 25-30 rodeos a year. I made some money but it was also an entertainment thing at that time."
That mindset was way different from his time competing in college when winning was the focus.
In 1966, Vermillion was the site of the national college championships and Reichert, leading the nation in points, drew a bull from the South Dakota-based livestock suppliers Korkow and Sutton.
"I drew one of their top bulls that would hunt the rider after the ride was completed," he said. "When I got off at the end of the ride, he continued his spin and was inches behind me when I jumped up on the chutes. I knew that bull was close to me because my dad took a movie of it. It was interesting to draw that bull in the first round, make a qualifying ride, and get away clean."
Despite lasting that ride, Reichert was unsure he'd win the title.
"I placed in the first go-round but did not get into the short go," he said. "I remember sweating it out through the short go. I accumulated enough points from the season and by placing in the first go-round, I was able to win the national title."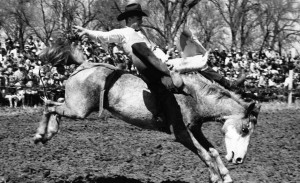 That was not the case in the 1967 finals in St. George, Utah.
"I drew sorry bulls, didn't win a point and fell short," he said.
Reichert made up for it in the 1968 finals in Sacramento, California.
"It was hot, hot, hot and humid, even at night," he recalled. "I went into the rodeo leading the nation and won the first go and was bucked off in the second go so I didn't get to the short round. Again, I had enough points from the season and with the first go-round points to win the title. I never really expected to win championships. I just got on each bull and rode them as they came.
"When I look back on it, I didn't realize I was as good as I was," Reichert continued. "I had some natural ability but about the time I entered college, a former bull rider from Wyoming gave me tips on body action and arm placement on turns. A few tips were never let your shoulders get out of line with the bull's shoulders and never look away from the hump in front of you. If you look at the ground, that's where you're going to go."
The lessons learned in rodeo carried over in life after State. Armed with a degree in agricultural education, Reichert taught in Geddes for several years before joining Land O'Lakes.
"The ag ed degree gave me a well-rounded education that gave me the opportunity to go into a variety of careers," said Reichert, who also worked as a color commentator for various rodeo broadcasts. "I learned to thrive on a challenge when I rodeoed. Whenever I had a tough sales call, I would think of it as facing an unridden bull. That would give me the determination to figure out how to accomplish the sale."
He encourages others to attend South Dakota State and join the Rodeo Club.
"The camaraderie of the team traveling together was great. The memories of team and club members are just one of the highlights as we are staying in touch with the great friends from SDSU rodeo in the '60s and getting together with them during the Jackrabbit Stampede. We are planning a 50-year reunion in 2018.
"Go to SDSU and major in something agriculture because the world population continues to grow and there are opportunities and challenges that need solutions if everyone is going to be fed," Reichert said. "There are opportunities for leadership development in the Rodeo Club and the challenge of rodeoing will help in the future, no matter what career a person is in."
Matt Schmidt