After getting a dog that was too aggressive for her liking, Karla (Kieckhefer) Lewis '96 went to work. She and Buddy, a 1-year-old border collie, went through obedience and agility classes. It all paid off as Buddy earned the American Kennel Club's Canine Good Citizen title and earned a Rally title. Rally is a sport in which the dog and handler complete a course of 10 or 20 stations that has been designed by the rally judge.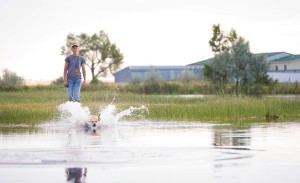 Lewis then learned Chuck Hutchason, owner of Mountain Plains Kennel of Nisland, South Dakota, was looking for some help at his place near Newell.
"I never thought I wanted to work with hunting dogs prior to that. I came over and talked to Chuck," Lewis said. "At that point, he only wanted help a couple of hours a day. I didn't really want to tie up my schedule like that.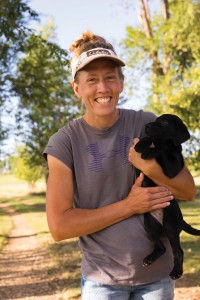 "I came back the second day ready to tell him I wasn't going to do it, but when I got through working that day, I thought 'this was really fun.' Six weeks later, I was still doing it and had decided I wanted a retriever," she continued. "Now, I've bought three retrievers and can't really tell you how many hours I work each week. The dogs, definitely, are the best part of the day."
While she says the dogs are the best part, she's happy when the dogs return to their owners after obedience or hunting training. She recalls a 3-year-old chocolate Labrador retriever, which needed training.
"He was so out of control that he came to us tied to a cinder block," she said, noting the lab went through the hunting training program and became collar conditioned. "I remember working with the family, and they were amazed that they could have him sit over here while they walked away and he'd stay there until they called.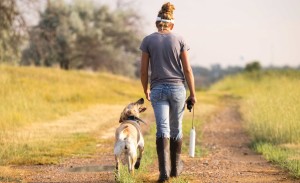 "It's tough to say goodbye, but I like to see the dogs go home," Lewis continued. "The dogs develop a rapport with us but generally they see their owner and that's still their main connection. They're happy to be back with their family, and their family is happy to have them back and have better behavior or be able to hunt with them."
While her career is not what she planned on doing after earning her bachelor's degrees in German and sociology, "I couldn't imagine why anyone wouldn't want to do what I do."