It's been said good questions outrank easy answers.
For the Class of 2010 Distinguished Alumni, we generated good questions for all eight of them to tackle. Fortunately, they came through with solid answers in their area of expertise.
Following a brief introduction, here are the alums' responses to a question tailored to their knowledge base.
— Compiled by Dave Graves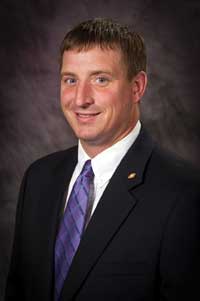 Joel DeRouchey,
St. Mary's, Kansas, Class of 1997,
Young Alumni
A full professor at Kansas State University, DeRouchey has a 20 percent teaching, 40 percent Extension and 40 percent research appointment.
As a primary or coinvestigator, he has received grants totaling $1.3 million for applied swine research, $1.4 million for environmental research and education, and $2.1 million in gifts and gifts in-kind.
While DeRouchey's resume goes on for 70 pages, some awards and numbers just jump out. Twice in the last three years he received an Outstanding Young Scientist Award from the Midwest section of the American Society of Animal Science. He was selected for the Extension award in 2008 and the Research award in 2010, so we asked—
What does increasing regulation mean for the future of agriculture?
Currently, farmers and ranchers, regardless of size and type of agricultural products produced, are dealing with regulations that can/will alter costs of production and ultimately force some producers out of their way of life.
If overregulation continues, U.S. agriculture carries the reality that production of all types will continue to shift to other areas of the world that have little to no policies for environmental, animal husbandry, or food safety oversight.
We must continue to stand up and defend our commonsense practices and be more united with a common message if we want to remain the world's leader in agriculture.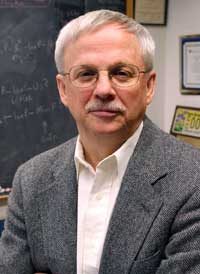 Lynn W. Enquist,
Princeton, New Jersey, Class of 1967, Professional Achievement
Enquist chairs the molecular biology department at Princeton University and is considered a world-renowned scientist in the field of pseudorabies.
During his forty-year career, Enquist has done research in the sectors of academia, government, biotech, large pharmaceutical companies and, since 1993, in academia again. That is when he joined Princeton.
A department head since 2004, he oversees sixty-one faculty members, sixty-four research staff members, and thirty-seven administrative staffers in support of 112 undergraduates, 146 graduate students, and ninty-four postdoctoral students.
In total, the department has 514 people in five different buildings on the New Jersey campus, so we asked him—
What has been the impact of a challenging economy on scientific research?
The scientific enterprise is enormous, so there is no "one answer." In my small area of basic cell and molecular biology research, the simple answer is that basic research is expensive and time consuming, dependent almost entirely on government funding. When the economy goes sour, grant funding becomes highly competitive, risk taking is discouraged, and as a result, innovation is difficult.
Young investigators become discouraged, fewer students are trained, and the research enterprise suffers. Nevertheless, the U.S. taxpayer has been a very generous supporter of research even in a challenging economy for obvious reasons: research is the engine that makes nations competitive with all the resultant benefits.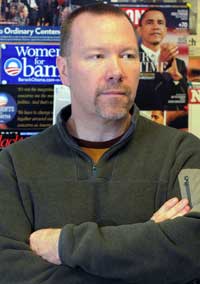 Steve Hildebrand,
Sioux Falls, Class of 1986,
Professional Achievement
Hildebrand, of Sioux Falls, had an attractive resume before 2008, but after Nov. 4, 2008, he was a shoo-in to the political strategists' hall of fame.
As deputy national campaign manager for Barack Obama, Hildebrand earned praise for turning a first-term Illinois senator into the first black president of the United States. The Times of London described him as "Obama's secret weapon" and the Washington Post called him "one of the principal architects" of Obama's campaign.
Hildebrand's journey into politics began in mid-1986 when he landed the position of state financial director with Tom Daschle's first senatorial campaign, so we asked him—
What will the 2012 presidential campaign look like?
It's difficult to predict. It appears President Obama will not have a significant challenge for the party nomination. Republicans will likely have a bloodbath of a primary with numerous candidates and the Sarah Palin faction of the party causing serious problems for them.
If they nominate a moderate and don't handle the Palin politics effectively, they could see Palin or someone else running as a third-party candidate. In the end, I predict President Obama will win a second term.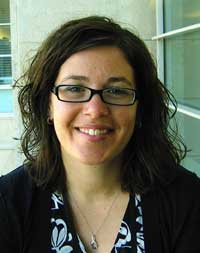 Stacy Holzbauer,
St. Paul, Minnesota, Class of 2000,
Young Alumni
Only eight years out of veterinary school, Holzbauer has distinguished herself in the field of epidemiology, particularly in the research of disease outbreaks.
Since July 2008, she has worked as a career epidemiology field officer for the Centers for Disease Control with the Minnesota Department of Health. From July 2006 to June 2008, she was epidemic intelligence service officer with the Centers for Disease Control, also working out of St. Paul.
Holzbauer has conducted numerous high-profile public health investigations, including a highly publicized E. coli outbreak that was associated with a Mexican fast-food restaurant, so we asked her—
Every year we hear about massive food recalls. Why does it seem like our food supply is less safe than in the past?
It's not always the case that our food supply is less safe but that we are more aware. There have been many changes in how we obtain our food over the years.
First, our food supply is now more industrialized and globalized, so a contaminated product now makes many people ill across multiple states and countries rather than a few people at a church picnic.
In addition, we have much better tools to detect food-borne outbreaks, including more sophisticated laboratory tests, DNA fingerprinting, and more coordination between federal, state, and local agencies that investigate outbreaks.
Food safety is dynamic and needs to constantly adapt to how and what we consume.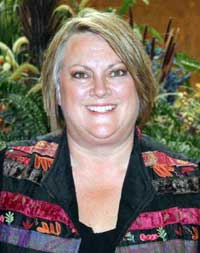 Cheri (Langerock) Kraemer,
Parker, Class of 1985,
Service to South Dakota
Kraemer, a pharmacist and business owner in Sioux Falls and Parker, has distinguished herself in her career and her community.
She received the Pharmacy Leadership Award from the National Community Pharmacists Association in 2001, the Innovative Pharmacist Award from the South Dakota Pharmacists Association in 2002 and the Hustead Award as South Dakota Pharmacist of the Year in 2006.
Kraemer also has served all offices in the South Dakota Pharmacist Association, including president in 2000-01.
The 1980 Sioux Falls Washington graduate has been a member of the SDSU Foundation board since February. She has provided a scholarship to an SDSU pharmacy student since 2006, so we asked her—
Is personalized medicine the best hope for independent pharmacies to survive in an urban setting?
I believe that personalized medicine is the best hope for all pharmacies.
Patients deserve the personal attention and need to have everything about a medication strength, dosage, amount, how to apply, and what it is for explained to the fullest.
We have a big advantage because we cater to patients' needs.  When the phone rings, a human answers it, sometimes it is the pharmacist. We know our patients' names and their families.
I really cannot account for survival directly but my pharmacy has been independently owned for more than fifty years, so we must be doing something right.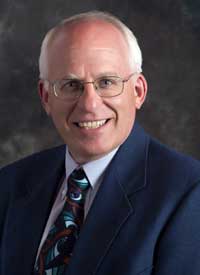 Mike MacNeil,
Miles City, Montana, Class of 1982 Ph.D.,
Professional Achievement
MacNeil, a research geneticist with the USDA Agricultural Research Service, is considered by some of his peers as one of the leading beef geneticists in the world.
His theories on genetics and economic benefit have become standards in the industry. The key word there is "become."
"The beef cattle industry was very slow to recognize the critical importance of melding economics with genetics for decision-making purposes," according to Wade Shafer, director of performance programs at the American Simmental Association. That didn't stop it from being a high priority for MacNeil since the beginning of his career, which started at SDSU in 1976, so we asked him—
Genetically based breeding has been part of the livestock industry for decades. Why has opposition arisen to genetically modified livestock?
Opposition to genetically modified livestock may arise from: lack of an apparent need or understanding, concern for unintended consequences, and sensationalism.
In developed countries, hunger and malnourishment are relatively minor problems—not true for a majority of the world's people. Lacking proximate need may afford the perceived luxury of choice among production technologies and even inefficiency.
Beyond food production, potentially using animals as bioreactors to renewably produce pharmaceuticals may be elusive. Genetic modifications may also be seen as parallel to mutation and thus associated with deleterious genetic defects. Resistance to change from time-honored traditions provides a perception of security.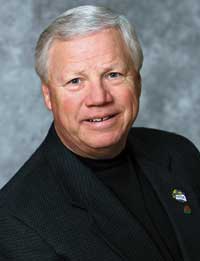 James McKinney,
Brookings,
Non-Alumnus Service to South Dakota
McKinney's direction of the SDSU marching band for twenty-nine years made "the Pride" an instantly recognizable connection to the University.
He served in the Music Department from 1973 to 1975 and then again from 1983 to May 2009. During nearly three decades as an educator, he hit numerous noteworthy marks, but the public knows him best as the Pride's band director.
Band members' most notable trips were to President Bill Clinton's inaugural parade (1997), a Green Bay Packers game (1998), the National Independence Day Parade (2000), and The Rose Parades (2003 and 2008), and war memorials in Pierre, so we asked him—
Does music on demand and the ubiquitous iPod make today's students more interested in performing music?
I think it is great for our art anytime people listen to music. Does music on demand encourage more people to perform on an instrument? Yes! Any exposure to music can spark an interest in performing.
Most people begin playing instruments through the school music programs, however, adult beginning band classes are catching fire across the country. What we need is more twenty-four hour television coverage of great musical performances. All iPods should come preloaded with great performances from all styles of music.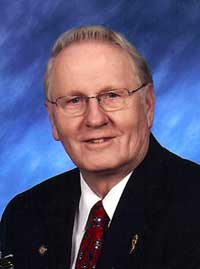 Lyle Solem,
Rochester, Minnesota, Class of 1959,
Service to SDSU
Solem, a retired electrical engineer, never cut ties with the university from which he graduated more than a half-century ago.
As an IBM manager, he recruited more than fifty SDSU students to his Rochester workplace. Since 1996 he has helped the SDSU Foundation on an unofficial basis in its fund-raising and has served on the SDSU Foundation board since 2001. In 2004 he was recognized by the College of Engineering as a distinguished university benefactor.
Solem said his willingness to jump aboard the SDSU fund-raising ship was automatic, noting he had done fund-raising for his church and Kiwanis, so we asked him—
Will the current generation of alums have the funds and generous spirit to carry on the unprecedented level of private giving SDSU has received?
When comparing past graduates' starting salaries versus today's starting salaries, recent graduates have access to more available dollars.
The graduates will be earning very good salaries because of their SDSU degree. If they appreciate what SDSU gave them, they will support SDSU.
Each year SDSU graduates receive a phone-a-thon call requesting donations. When you receive this call, support your college, and when your earnings have increased, give more dollars to SDSU. With this plan, the funds and generous spirit will carry on.