A Conversation with former Secretary of State Madeleine K. Albright
Certain life events serve as timestamps, marking the change in a school of thought or breathing perspective into an existing one.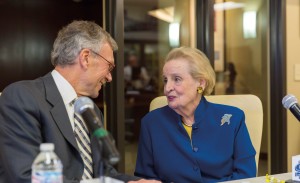 For many students, meeting Madeleine K. Albright—the first woman to become U.S. Secretary of State—served as that timestamp. Albright's visit shone a light on students' future roles as leaders who will influence how the world operates.
The Oct.13 event marked the second annual Daschle Dialogues, which brings nationally relevant persons to campus for an appearance with alumnus Tom Daschle, who represented South Dakota in Congress for 26 years. The event is held in support of the Senator Thomas A. Daschle Congressional Research Study, which is located in the Archives and Special Collections of the Hilton M. Briggs Library on campus.
"I think the most impacting part of the day was acknowledging the challenges we will have to overcome as a generation," said Carter Pederson, an English major from Chanhassen, Minnesota. "A college campus is probably the best place Daschle and Albright could talk about modern foreign policy issues. We heard what these two prominent people think about these topics, and they gave their solutions, but it will ultimately be up to us to accept and implement the solutions.
"Our generation will soon be leading. Some of us are already leaders and it is up to us, as a collective, to shape the world."
Albright served as the 64th secretary of state, then the highest-ranking woman in the history of the U.S. government. She is currently a diplomacy professor at the Georgetown University School of Foreign Service.
She was the first former Cabinet member to visit Brookings since former Secretary of Agriculture Robert Bergland appeared at State in fall 1981.
Scholars luncheon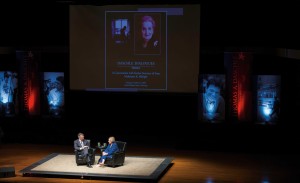 Preluding the evening dialogue, the Daschle Scholars ate lunch with Albright and Daschle. As recipients of the 2015 research scholarship, Evren Celik-Wiltse, assistant professor of political science, and Zackariah Mitchell, a political science and history double major from Las Vegas, presented their research findings during the luncheon.
Celik-Wiltse and Mitchell were awarded stipends to research the Daschle Career Papers Collection on North American Free Trade Agreement and uncover how that trade agreement has affected agriculture in South Dakota and Mexico. Once the research concludes—likely fall 2016—Celik-Wiltse and Mitchell will prepare materials for publication in political economy journals. This was the first time the research scholarship, which is supported by the College of Arts and Sciences and the SDSU Foundation, was awarded to a joint faculty/student proposal.
"We're basically going through every document that Daschle dealt with involving NAFTA," said Mitchell, who plans to pursue a career as a U.S. Navy officer in the foreign service after graduation. "It's interesting to see how lobby groups interacted with senators through these documents."
Mitchell said Albright spoke on foreign policy and free trade, with various anecdotes about her past experiences. "She was an outgoing and charismatic speaker," Mitchell said. "I was not nervous to sit next to her, but more excited to speak with someone who is extremely intellectual and intelligent and informed about foreign policy."
Student Q&A with Albright
Celik-Wiltse, along with Molly Enz, associate professor of French and coordinator of the Department of Modern Languages and Global Studies, and Tim Nichols, dean of the Van D. and Barbara B. Fishback Honors College, chose 40 students to attend an afternoon Q&A session with Albright.
William Prigge, head of the Department of History, Political Science, Philosophy and Religion, said they wanted to make sure students were prepared to ask Albright informed questions. Former political science professor Bob Burns served as the Q&A moderator. "We hand-picked students who we thought would benefit from, but also bring diversity to, the conversation with Albright," said Prigge.
From a list of Albright's authored books, students chose a book of interest to read pre-Q&A. "Madeleine signed every single one of the students' books," Prigge said. "She also commented on how impressed she was by the diverse and knowledgeable group of students at the Q&A."
Valida Azamatova, a political science student from Uzbekistan, had the chance to ask Albright a question. "My question related to the relationships with Russia and the current sanctions with Syria," Azamatova said. "I wanted to know how that would economically influence other European countries, and how it would affect Russia in the long run." Albright answered the question by talking about the principles she teaches in the diplomatic toolbox at Georgetown.
Azamatova said she felt special talking to Albright because not every student had the chance to ask a question. "I had a fangirl moment," said Azamatova, who plans to earn a master's degree in international relations, then go into the diplomacy field. "As an international student, I know I wouldn't have had the chance to meet Madeleine Albright in any other situation, so it was an honor to speak with her face-to face."
Evening dialogue
That evening, Daschle, a 1969 graduate of the Department of History, Political Science, Philosophy and Religion, joined Albright onstage at the 1,000-seat Larson Memorial Concert Hall in the Performing Arts Center. The public event broadcast on South Dakota Public Television.
Political science and global studies double major Florencia Magni attended the Q&A session and the evening dialogue. She said the main point she took away from Albright was that one of the biggest mistakes that characterizes the U.S. foreign policy is ignorance toward Islam. "I found such a statement remarkable because ideas like this encourage students to open themselves to the study of different areas such as religion and other languages," said Magni, an international student from Argentina.
Magni noted Albright's advice on seeking information from both political sides. "Albright stated that even though she belongs to the Democratic Party, when she was in office, she read five different newspapers a day, which included the Republican view as well."
According to Magni, Daschle's talk on of the importance of the four D's for global engagement—diplomacy, democracy, development and defense—stuck with her. "Daschle talked about how the U.S. spends 'too much' on defense," Magni said. "Again, perspectives like this foster students to reconsider the 'greatness' of America, and look at some of the things the country is doing wrong.
"I think it is important to understand why other societies become 'anti-American,' which usually relates to how democracy is promoted. An idealistic perspective can explain that the U.S. is willing to promote freedom all over the world, but from the realistic side, people from other parts of the world see constant military presence, minimization of their religious beliefs and inconsistency in foreign aid."
Albright and Daschle gave students starting points for researching and learning different perspectives, according to Magni, adding "Sharing time with Albright and Daschle was an experience that will mark my student career forever."
Karissa Kuhle