Children of South Dakota State University alumni living outside South Dakota may be eligible for in-state tuition and fees starting with the fall 2015 semester. The South Dakota Board of Regents approved the Children of Alumni program at its April meeting. The program, which has been titled Dakota Return at State, is open to new freshmen and transfer students. Applicants have to have at least one parent or legal guardian who earned a degree (associate, bachelor's, master's, professional doctorate or doctorate of philosophy) from State. A form for more information is available on the magazine's back cover.
"Our hope is that students who may not have been considering us, possibly due to distance, will be interested in SDSU, and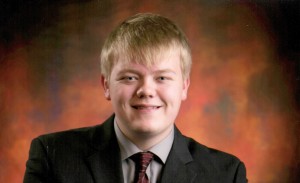 their parents might be inclined to push them in our direction," said Tracy Welsh, director of Admissions. "Going forward, we're going to market it very heavily. We hope to grow the program in the coming year as we'll have had it in place for the entire recruiting cycle for high school seniors.
"It's a way for us to reach a broader audience than what typically has attended SDSU," she continued. "Because of the opportunity to pay in-state tuition and fees, we're more attractive for prospective students from Illinois, for example, due to the cost difference.
A student from Minnesota receiving reciprocity will now save an additional $800 under the Dakota Return program. A student from any other nonresident state will save approximately $3,000 per year with this new program.
Freshmen and transfer students who enroll in fall 2015 or after are eligible for the program. Freshmen must have an ACT composite score of 20 or higher (SAT of 930 or higher). Transfer students must have a transfer GPA of 2.5 or higher.
"South Dakota State University has more than 30,000 alums living outside of South Dakota. This program will make it possible for children of alumni living out of state to benefit from an SDSU education as well," said Doug Wermedal, State's associate vice president for Student Affairs. "The university has served first-generation college students over the decades, and we look forward to working with their children to take advantage of this new opportunity and be part of the Jackrabbit family."
Incoming freshman Jackson Pond will be taking advantage of the program. The son of Jeff '93 and Janel '93 Pond of Tracy, Minnesota, likes the fact South Dakota State is close to home. A brother, Andrew Robison, graduated from State in spring 2014.
"My parents really enjoyed their time there," said Pond, who plans to major in biology with a pre-professional health specialization. "After being on campus, I believe that South Dakota State will provide me the proper education for the fields I want to choose for a career.
"Andrew showed me the ropes last summer on a tour," he continued. "He showed me the library, what a residence hall room looks like, what classes look like in the Rotunda and a few other buildings."
Admissions is planning to participate in more college fairs to reach those out-of-state concentrations of Jackrabbits. In addition, the department will attend various national college fairs in Chicago, Milwaukee and Denver as well as put an emphasis on Kansas City.
To renew their award, students must complete a minimum of 30 credits during the academic year and have a GPA of 2.75 or higher. New freshmen can receive resident tuition and fees for up to four academic years (eight consecutive semesters).
For transfer students, the program is valid for the difference between the necessary credit hours for graduation, typically 120, and the number of credits the students transfer to State. For example, a student who transfers 60 credits to the university will be eligible for two years of in-state tuition and fees, averaging 15 credits per semester.
Matt Schmidt