State grad lives her dream in New York City
As a 7-year-old, Carrie Brinker '06/'08 sat in a red theater seat and watched wide-eyed as her cousin performed in the play "Grease." That day, she decided she wanted to work in theater.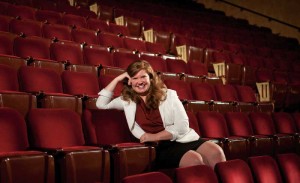 Twenty-three years later, Brinker is living her dream.
She works as the associate theater manager for the Al Hirschfeld Theatre on Broadway.
The company she works for—Jujamcyn Theaters—owns five Broadway theaters, and assigns two managers to each theater.
"We are essentially responsible for the integrity of the theaters," said Brinker, who works with show producers to put on the productions.
"The Book of Mormon," "Jersey Boys," "A Gentleman's Guide to Love and Murder" and "Kinky Boots" are a few of the shows Brinker has helped put on.
During the day, Brinker works in an office, completing administrative work ranging from payroll and license agreements to supply orders and staff hiring. When Brinker serves as house manager, she is active around the theater, helping patrons with anything from tickets and seating to medical emergencies and evacuations.
The best part of Brinker's job is being able to say she works on Broadway. "Sometimes I think, 'wow, I actually work on Broadway.' I never expected to be able to say that," said Brinker, who's been living in New York for six years.
Start in set design
When Brinker started college at South Dakota State, it was her plan to study and pursue a career in set design. Being involved in theater throughout her high school years, Brinker decided to weave her interest of interior design into her love for theater.
Throughout college, Brinker was involved in Prairie Repertory Theater, and served as company manager for three years.
She graduated with two bachelor's degrees, one in communication studies and theater, and the other in interior design.
After graduating in 2006, Brinker wasn't sure where she wanted to go, or what she wanted to do with her education. "It was through talking with Laurie Haleta (head of the Department of Communication Studies and Theatre) that I decided to go on for my master's degree," said Brinker.
According to Brinker, the guidance Haleta and assistant professor Josh Westwick provided helped make her who she is today.
"Laurie and Josh pushed me academically, professionally and personally," said Brinker, who earned her master's degree in 2008. "I left SDSU not only with a brilliant education but also as a better person because of them."
A highlight of Brinker's college career was teaching speech while earning her graduate degree. "I loved teaching speech," said Brinker. "It was great working with students and seeing the progress they made. Someday, I'd love to be able to take what I know from New York theater and bring it back to SDSU students."
Summer Stock Theatre
Brinker spent the summer after earning her master's degree working in Dorset, Vermont, for the Summer Stock Dorset Theatre Festival.
It was during her time there that Brinker decided she wanted to be a theater manager. She told the others working at Summer Stock of her goal. "My co-workers said, 'well, if you want to work in theater, then why don't you live in New York?' I guess that was a good question," said Brinker, a Sioux Falls native.
When she returned to South Dakota, Brinker made plans to move to New York.
"My family was incredibly supportive of my decision," said Brinker, who sold most of her belongings, aside from a few suitcases of clothes.
Even though Brinker didn't have a job secured when she moved to the Big Apple, she had living arrangements. "I moved in with five other people—three SDSU graduates and two people I met in Dorset. We lived in a big brownstone in the Bronx," said Brinker, who now lives in Harlem with her husband, Jesse Schanzenbach '08.
Job hunting, anywhere, everywhere
Once settled, Brinker started submitting job applications and her resume to any and all positions.
"I submitted everywhere," she said. "Places I was interested in, places I wasn't interested in. Everywhere."
Then, one of Brinker's roommates heard about an internship position opening at Stomp, an off-Broadway theatrical dance performance company. "My roommate was interning there at the time and put in a good word for me," said Brinker.
When Brinker arrived to the interview, the man interviewing her said he was originally from the south, and decided to meet with her because, "Carrie Jo," had a Southern ring to it. That interviewer soon became Brinker's boss and great friend.
In the unpaid semester-long internship, Brinker faxed papers, went through files and did all the mundane internship work. She stayed afloat financially walking dogs in the evenings and on weekends.
Brinker said being from the Midwest played out to her advantage. "In bigger cities, Midwesterners hold the hardworking stereotype," said Brinker. "I knew I had to prove myself and stand up to it."
Brinker made it a point to develop a great relationship with her boss and co-workers, and at the end of the first internship, she was asked to complete another semester-long internship. She continued working on administrative office work.
"My main goal with those internships was to provide so much value and work so hard they couldn't afford to replace my position."
Brinker started full time in an assistant management position, doing administrative work—royalty checks, ticket giveaways and welcome packet distribution for the Broadway show "Burn The Floor."
When "Burn The Floor" closed, Brinker made a lateral move to Jujamcyn Theaters where she began working to join the union, Association of Theatrical Press Agents and Managers. She became a member in the fall 2011 and secured her associate management job with Jujamcyn Theaters.
Production perks
One of Brinker's favorite job perks is attending the Tony Awards each year. "I have met a ton of celebrities and talented people," said Brinker. "It's exciting to be able to say 'I met that person' that I see on TV or in the movies."
"In 2011, I got to meet and hang out with Daniel Radcliffe (Harry Potter). That was during the Harry Potter craze. I had moms offering me money to get their daughters backstage to meet him. It was very surreal."
It was then that Brinker realized how unique her job was.
"It's fun not knowing who's going to walk through the door of my theater," said Brinker. "I'm living my dream."
Karissa Kuhle