Honorary doctorate to Rounds
Jackrabbit and former governor Mike Rounds received an honorary doctorate of public service at spring commencement May 7 in Frost Arena.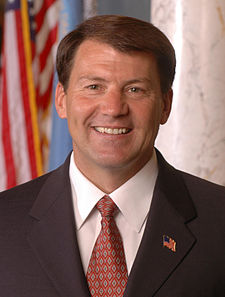 Rounds, a 1977 graduate of the political science program, served as governor from 2003 to 2011. The Pierre native and former state legislator was the first SDSU grad to be elected governor.
Rounds also delivered the commencement address to those receiving an advanced degree in a separate afternoon ceremony.
The morning address to undergraduates was given by U.S. Senator John Thune.
A total of 1,442 students completed requirements for graduation and took part in the two ceremonies.
State grads entering SD Hall of Fame
Five of the fourteen members being inducted into the South Dakota Hall of Fame in September are SDSU grads.
Those who will be honored in Chamberlain are:
• Don Barnett '64 mayor of Rapid City 1971-75, when Rapid City received national recognition for its recovery from the 1972 flood;
• Ross Davies '23, born in 1899, he became the youngest county farm agent in South Dakota;
• Dana Dykhouse '79 president and CEO of First Premier Bank and philanthropist;
• Norm McKie '60/'61 a high school teacher in California who built the largest car dealership in West River South Dakota; and
• Lynn Seppala '68, who led optical design of billion-dollar projects at the University of California Lawrence Livermore National Laboratory.
William Hinks, owner of Unclaimed Freight Furniture, was a music student at SDSU.
The candidates were chosen from fifty-three nominations and join 667 past inductees.