With dimensions of 35-feet tall, 47-feet wide and weighing nearly 9,000 pounds, the world's largest Jackrabbit can be seen upon arriving on the SDSU campus.
The logo, which is on the Sanford-Jackrabbit Athletic Complex's south side, faces Coughlin-Alumni Stadium.
Persona, which has been a sign manufacturer since 1980, built the sign. When one includes the logos for the Sanford-Jackrabbit Athletic Complex and Larson Manufacturing, it was Persona's largest single-site project ever.
All three of Persona's South Dakota facilities were involved in the production process. Persona Madison fabricated the 48-inch channel letters for the complex name, Persona Main in Watertown produced the Jackrabbit logo in five sections, and 3M™ Panaflex™ vinyl was digitally printed at the Persona West plant, also located in Watertown, using an EFI VUTEk GS00LXr Pro printer.
Topline Advertising of Maple Grove, Minnesota, installed the signage.
The Jackrabbit logo arrived in seven pieces. Installation started July 20 and was completed July 22.
Arriving initially were sections "ABBITS" and "JACKR." Combined, the sections weighed nearly 5,000 pounds.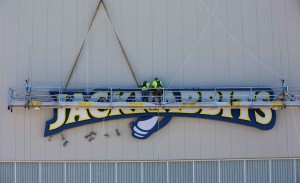 "The Jackrabbit took about 30 days to build once it was approved, said Ryan Walsh, who attended State for three years before leaving due to military obligations. Walsh, a sales manager, is in his eighth year at Persona. "We worked on the project for about a year prior to getting a contract from the state."
Walsh said approximately 20 people worked on the project. Dave Hovde '93 is the Watertown facility's plant manager.
"The main challenges we came across were engineering the rabbit to be attached to the wall," Walsh said. "Despite the size, shipping wasn't so much of an issue. We had an escort take the oversized parts down the Interstate."
Matt Schmidt