Higher education continues to provide value for those who graduate from college.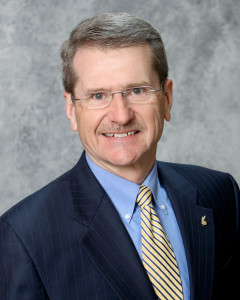 I have cited U.S. Census Bureau data in previous years that show college graduates in their 40s earn about 80 percent more annually than high school graduates in the same age group.
A recent survey commissioned by Discover Student Loans shows that among parents of college-bound students, 87 percent consider a college degree as "very important" to their children's future, an increase from the previous year. That same study, however, found that four out of five responders (or 79 percent) are worried about the costs of higher education for their children.
My colleagues at universities and colleges across the country and I share those concerns. As the nation climbs back from a recession, it is time that our conversations about the costs of education focus on the value proposition to students and helping them reach their academic goals.
The South Dakota Board of Regents has named affordability as the system's No. 1 priority for the upcoming legislative session. The regents in August approved a request for nearly $6 million in new state funding that will support salary policy, employee benefits and inflation on operating costs. For years, tuition and fee increases were required to fund a majority of salary, benefits and operations at South Dakota State University. (About 60 percent of salary and benefit increases came from higher tuition and fees.) This proposed new state funding, if recommended by Gov. Dennis Daugaard as part of his Fiscal Year 2015 budget and appropriated by the 2014 Legislature, would keep tuition and mandatory fees at this year's levels for in-state undergraduate students in 2014-15.
The regents also will request another $1 million for student success initiatives at the public universities. This additional state investment would build on the great strides made at State to bolster retention and graduation rates.
The evidence is coming in that several elements of the university's Student Success Program, now in its third year, have achieved the anticipated outcomes, have positioned students to complete degrees in a timely fashion and have connected students to academic programs that meet their career aspirations.
The university reallocated funds for 17 full-time professional academic advisers who serve approximately 6,500 students. Funds are needed for five additional positions to reach an industry-comparable staffing level. National studies show that strong first-year advising shortens degree-completion times and improves graduation rates. Locally, the proof is more compelling: The state's retention rate—the percentage of first-time, full-time freshmen who register the next fall—reached a low of 73.5 percent two years ago. This fall, that number will rise above 76 percent.
The Career Development Center was reconstituted after students leaving the university expressed an inability to connect their fields of study to future careers. Today, the center, staffed with 4.5 positions, has professionals who work with juniors and seniors on the transitions to careers. Funding is needed for another professional to help freshmen and sophomores connect fields of study to career opportunities.
Funds are needed to expand an early-alert system that flags class attendance issues and offers struggling students counseling and tutoring information. The pilot project two years ago generated more than 4,000 alerts.
The focus on student success at State has increased the retention rate, one of the university's key performance indicators. Ultimately, that will impact graduation rates and the number of graduates that enter the workforce.  The IMPACT 2018 strategic plan has an objective of increasing the number of graduates to 2,660 in the class of 2018.  Investments by the state of South Dakota in student success will assure this number is achieved.
I encourage alumni to read the Board of Regents FY15 Budget Priorities document (accessible online at http://www.sdbor.edu/theboard/agenda/2013/August/PlanningSession/7.pdf). The emphasis on affordability and student success support the work underway at State to provide value to students seeking their gateways to opportunities.
David L. Chicoine, Ph.D.
President
Class of 1969