I have had the distinct privilege of serving our alma mater, South Dakota State University, as president for more than nine years. I announced in December my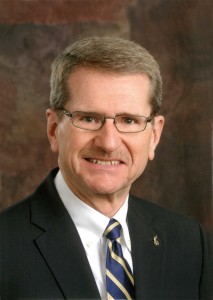 intention to step away from the presidency once a successor has been recruited and begins his or her tenure as president, and you will read more about that in subsequent pages.
My wife, Marcia, and I look forward to the next step in life's journey. We have been so very fortunate to have worked with and among alumni, faculty and staff. We could not have imagined the experiences ahead when we drove from the University of Illinois, our home for three decades, to Brookings Jan. 1, 2007. South Dakota State has been our place of employment, our home, and more importantly, it has been our life. We still marvel that Marcia, a native of Volga, and I, a native of Elk Point, who met as undergraduates here at State, had this opportunity. The relationships made during these years are what we cherish most.
During the past nine years, the university has grown and evolved. Milestones have been achieved and successes celebrated. Growth and evolution is evident in enrollment, in facilities, in discovery research and technology commercialization, in graduate education, in the creative and performing arts, in academic quality and student success, in intercollegiate athletics, and in brand recognition, respect and prestige. As I frequently say, a better university contributes to a more prosperous future. South Dakota State has risen to a special place recognized for what it is and does, for its aspirations and accomplishments, and for its excellence, thanks to many people—our faculty and staff, students and alumni, administrators and Regents, donors, friends, elected public officials and citizens of South Dakota.
For the short term, I will lead South Dakota's land-grant university with the same sense of purpose and direction that I have for nine years. If the next president begins by fall 2016, I will apply for a sabbatical leave for that semester, returning to faculty responsibilities in the Department of Economics in spring 2017.
Public research and teaching universities are changing because of a plethora of internal and external forces. South Dakota State is positioned to lead and shape that change, not just react to it. The future is bright and opportunities abound.
The next president will be privileged to work with the faculty and staff and to interact with the university's alumni and friends. The hard work, scholarship, integrity, loyalty, creativity and passion for excellence have lifted our university to where it is today and will help lead it into a new era that matches the legacy of its past.
Marcia and I thank you for your support, your kindness, your spirit and your dedication and loyalty to South Dakota State University.
David L. Chicoine, Ph.D.
President and Professor of Economics
Class of 1969
________________________
As you will read elsewhere in this issue, Provost Laurie Nichols, a State alumna, has been named president at the University of Wyoming, and I expect that she will begin her move west shortly after commencement exercises in May. I would be remiss if I did not take my final opportunity in this magazine to congratulate her on this opportunity and to thank her for her leadership and years of dedicated and accomplished service to State.