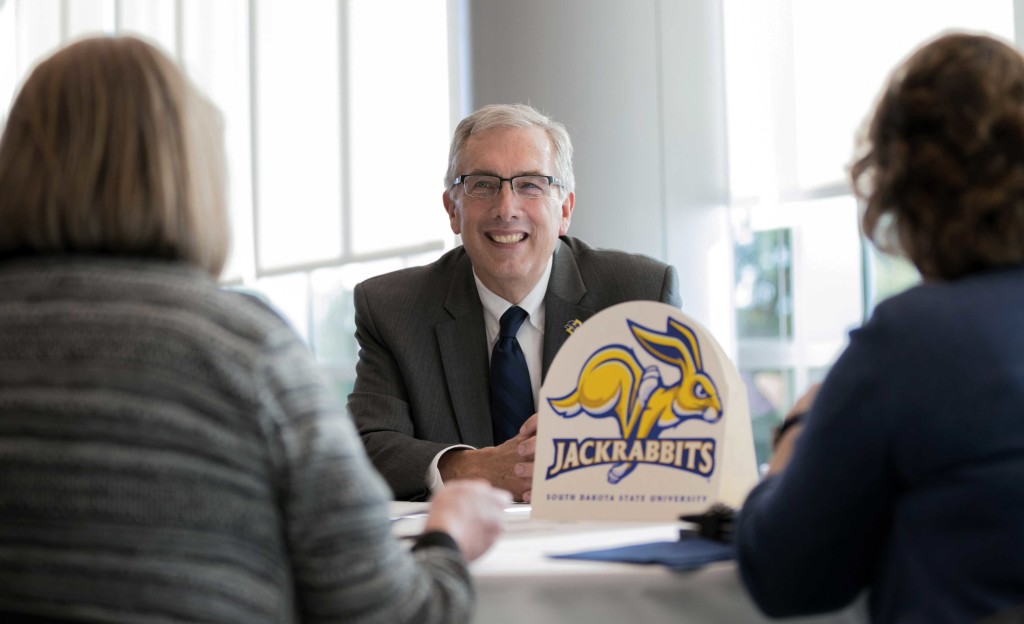 Barry H. Dunn, a man who earned all three of his degrees at SDSU, was inaugurated as its 20th president in an afternoon ceremony at Coolidge Sylvan Theatre Sept. 29, 2016.
Dunn, who moved into the chief executive's chair after serving six years as the dean of the College of Agriculture and Biological Sciences, has a total of 10 years on the SDSU faculty. From 2000-04, he was an assistant professor in animal and range sciences. Between his SDSU stays, Dunn was at Texas A&M University, Kingsville.
The inauguration, in addition to Dunn's acceptance speech, included selections from SDSU's music department and comments from dignitaries and representatives of other higher education institutions.
The photos below are from September's inauguration, the postinauguration reception at Club 71 in the Dana J. Dykhouse Stadium and different events held that week.

The comments that follow represent some of the highlights from their addresses to Dunn during the two-hour inauguration.
Nathan Sanderson, director of policy and operations, representing Gov. Dennis Daugaard
He possesses a fierce intellectual hunger and a compassion for people that really only comes from those with a huge heart.
Perseverance, persistence and a willingness to get the job done right, these are the qualities that help turn good enough into an example of excellence.
I know he's going to continue to grow and develop South Dakota State University while inspiring all of us to action. Ladies and gentlemen, SDSU has a tremendously bright future, allow yourself to be inspired.
Mark Johnston, East River director, representing U.S. Sen. Michael Rounds
You understand that maintaining a strong postsecondary education system is vital to the future of not only our young people but also our communities as well.
Today's college students will become tomorrow's leaders, tasked with passing down our values, traditions and opportunities to future generations. Having people like you committed to their education is necessary to help our young people reach their full educational potential and make the best decisions for our communities and state.
South Dakota State Sen. Larry Tidemann
When people from throughout the state come here, they see a campus that is moving forward. It is leadership that makes this institution great.
Brookings Mayor Tim Reed
President Dunn doesn't just understand, believe and promote the land-grant mission; he is the land-grant mission. Listen to his stories and his dreams and you will understand this.
Peter McPherson, president of the Association of Public and Land-grant Universities
He is a capable man. A man whose friends and admirers have high expectations for this job. He's smart, yet humble. He has ideas and vision but is very approachable.
South Dakota State has made a wise decision.
Robert C. Oliver, president of Augustana University, representing private colleges in South Dakota
We all look forward to opportunities to be in continuing dialogue about future service to students and faculty-staff collaborators … and to partner together to create value for students, our communities and the state we all love.
Lionel Bordeaux, president of Sinte Glaska College in Mission, representing tribal colleges
This young man is also part Indian. Proud to be related to him. Very proud of this relative. … If we hear there is a loud Indian heading up South Dakota State, we'll know what to expect, give him a call and maybe join him.
Jose-Marie Griffiths, president of Dakota State University, representing the other regental institutions
One of my colleagues, Dr. Heather Wilson, president of the South Dakota School of Mines and Technology, was on the interview committee that made the recommendation of Dr. Dunn's appointment. The committee was struck that Dr. Dunn didn't want to be the president of some university.
He wanted to be the president of South Dakota State University, and we are all the welcome beneficiaries of his desire.
Mylo Hendrickson, professor emeritus, representing SDSU retirees
Retirees cite many characteristics of Dr. Dunn that give them optimism for the future of the institution they love so dearly, including:
His ability to communicate with many and diverse audiences;
His understanding of and belief in the land-grant system;
His understanding of the challenges and opportunities facing higher education;
His demonstrated management and leadership skills;
His vision of growing SDSU as a land-grant institution rather than trying to re-create it in the image of some other institution;
His deep appreciation of the value of all people, including students, personnel and external clientele;
His understanding of and appreciation for the leadership and efforts of those who came before him and provided a magnificent foundation to build on; and
His outstanding personal character and integrity.
Mary Kay Helling, associate vice president of academic affairs
As a leader of SDSU, he is dedicated to the state of South Dakota and its people. He is committed to excellence and integrity in all that we do. He demonstrates great care and respect for colleagues, a genuine desire to build a team with clear and common purpose to build a strong and responsive institution of higher education. He supports faculty and staff as they strive to facilitate student learning, discover new knowledge and provide service and outreach. He is connected with students, and he is willing to listen and work with students. He is committed to a comprehensive university.
Shawn Helmbolt, chair of the SDSU Professional Staff Advisory Council
We wish you all the best for the years ahead during your tenure as the 20th president of South Dakota State University, an institution so dear to many of us, and look forward to working under your leadership making every day a great day to be a Jackrabbit.
Allyson Helms, Students' Association president
I would like to thank you for the support, guidance and advice that you have given myself and so many other students over these last few months and your entire tenure here at State. The Students' Association has enjoyed a great working relationship with you and we look forward to continuing this in the future. We are proud to celebrate you, to celebrate this historic day, and to dream of all that we will have to celebrate in the future.
Ryan Brunner, vice chair of the SDSU Alumni Association Board of Directors
As an association, we are happy to see a graduate of SDSU be successful anywhere and everywhere in the world, but it gives us a great sense of pride to have a member of our family return here to SDSU with their success as President Dunn has done.
Kim Tyler, chair of SDSU Foundation Council of Trustees
The SDSU Foundation's values of integrity and relationship-building are demonstrated at the very highest level by Dr. Dunn. Our future, we believe at the SDSU Foundation, holds incredible possibilities under the leadership of Dr. Dunn, and we at the foundation are committed and enthusiastic about tomorrow's promise.