Scott Phillips—A good steward of our wild and scenic places
A visit to two national parks as part of a summer course in 1973 further opened Scott Phillips' eyes to being a good steward of land and wildlife management.
Phillips, who received his bachelor's degree in range management in 1974, said that course, and others at State, "has everything to do with what I do now." He manages a ranch in Meade County, which was homesteaded by his grandfather, Bill, in 1909, and is on the state's Game, Fish and Parks Commission.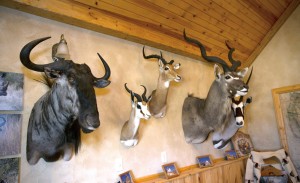 "That course, taught by Bob Gartner, who worked at the West River Ag Center, took about 20 students on a tour through several western states," Phillips said. "I saw how great the need was for good stewardship of our wild and scenic places. Couple that with my lifelong involvement in the ranching industry—where conservation of our natural resources is absolutely essential—and a lifelong interest in wildlife, which led me to want to get involved in some capacity or another with either wildlife or parks management."
It took some time for Phillips to make that happen. It did when he was appointed to the Game, Fish And Parks Commission in
2014. This position allows him to further develop his passion for the outdoors and help create opportunities for others to do the same.
An avid outdoorsman, demonstrated by the collection of mounts and photos in his house, Phillips' collections range from bobcats, pheasants and several trophies from Africa. Phillips and his wife, Paula, visited Kruger National Park in South Africa and took pictures of the continent's Big Five—leopard, lion, cape buffalo, elephant and rhinoceros—and zebras and giraffes. When in Alaska, they have photographed coastal brown bears and polar bears.
However, the most impressive specimen might be a moose taken Sept. 5, 2008, in Alaska. At the time, the moose ranked 125th largest all-time in the world according to the Boone and Crockett Club score charts.
While his love of hunting—either by camera or gun—is still present, Phillips is trying to expand the opportunities for others to take in a variety of animals. As a result, he and 13 others—9 of which had a connection to State—also went on a trip to Hinton, Alberta, to pick up 26 bighorn sheep to relocate near Deadwood.
"The trip was a few hours of excitement and about 60 hours of driving," Phillips joked. "We achieved our goal of introducing 26 bighorn sheep into the Black Hills near Deadwood and that made the trip worthwhile. It was a culmination of many peoples' efforts over several years."
One of those people is John Kanta '99, a regional wildlife manager for the South Dakota Game, Fish and Parks Department, who was also on the trip. Kanta appreciates the fact Phillips is on the commission due to his wildlife interests as well as being a rancher.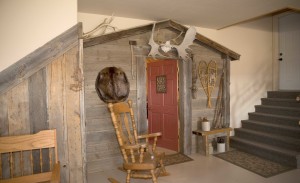 "He has a good perspective on both sides of the issues we deal with," Kanta said. "Scott and, of course, the other members of the commission, look at what we're recommending and the data but then also, per the governor's appointment, take into account peoples' opinions, which can be filled with emotion, or hearsay in some cases, and somehow incorporate that into their final decision."
Matt Schmidt