When taking the field before the final game at Coughlin-Alumni Stadium in November, several individuals who played in the stadium's first game participated in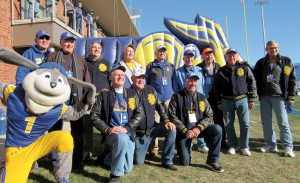 the coin flip.
Dean Koster, starting quarterback and captain in 1962, was allowed to flip the coin.
"That was pretty awesome," he said. "As a captain, we walked out for the coin toss every game but this was more of an honor. When I was asked to flip the coin, I'll never forget that.
"Being out there brought back a lot of memories," Koster continued. "When I ran on the field as a player, I never thought about losing. I always thought we were going to win."
While the Jackrabbits lost the coin toss, that was all they lost in a 25-20 win over then-No. 2 Illinois State, giving Coughlin-Alumni a fond farewell. For the record, Arkansas State handed the Jacks a 9-7 loss, Sept. 22, 1962.
The Jackrabbits would also lose the second game played in Coughlin-Alumni but closed the 1962 season with six wins and a tie to win the North Central Conference championship. In addition to Koster, Don Brown, Bob Carr, Jim Dwyer, Lyle Farrand, Les Hansen, Roger Larson, Doug Peterson, Wayne Rasmussen, Jim Ricke, John Stone and Dave Westbrock were on the field for the coin flip. They were part of a group that won three-straight conference titles.
"I made a comment to a couple of them that we better win this one because we didn't start out very good," said Stone, also a captain in 1962. "When Coughlin-Alumni was built, it was state-of-the-art.
"I've said it was a bigger transition going from the old stadium (State Field, now known as Sexauer Field) to Coughlin than it is going to be from Coughlin to the Dykhouse Stadium. We had nothing in the old stadium," Stone continued. "When we went into Coughlin, we dressed in The Barn and ran over. And at halftime, we'd have meetings either in a school bus or under a tree. Regardless, it was a major change for us."
Not only was Coughlin-Alumni a place to play, a few individuals got to work on it, too.
Peterson and Rasmussen helped provide some finishing touches during Coughlin-Alumni's construction. Peterson laid and watered sod while Rasmussen burned numbers on planks to indicate seats.
"My job was to water, roll and pack the sod," Peterson said. "I had a 50-gallon drum I pulled by hand. When I was done with that, I'd run the stadium steps."
In a different way, Rasmussen, who would play 10 seasons with the Detroit Lions, also got a workout in on the steps.
"At that time, moving to Coughlin-Alumni was a big step, a big step," Rasmussen said. "It has been a really special place for us because of the memories we had playing. And working for some of us. To number the seats, we'd put a 1 in the wood burner, light it and let it heat up. We'd then go and burn about 10 seats and it would cool. We'd reheat it, go up another 10 and keep repeating the process. We'd do all of the 1s first, then do the 2s going down the stairs, then up with the 3s and so forth.
"It's hard to believe that one can remember back 50 years, but we all had some flashbacks to our playing days, coin flips, touchdowns," he continued. "You develop a closeness with those guys. It's kind of shame it was necessary to have a reunion like that to get together."
The new stadium did have its advantages.
"For starters, the field had a crown," said Stone, who was a kicker and linebacker. "At State Field, if it rained a lot, we'd be standing in water. I remember making tackles and feeling like you landed in a lake."
But Coughlin-Alumni wasn't perfect.
While Stone, who earned All-America status in 1962 after leading the nation in points scored by kicking, did not have to deal with standing water at Coughlin-Alumni, there was another element present—wind.
"The wind was a real challenge," he said. "It seemed the stadium was alone out on the prairie. It was like going out in the middle of a 160-acre field and putting in a monster stadium. The only stands were on the west side. There were no trees there at that time so there was all of this wind blowing."
Koster, the quarterback, also recalls the wind.
"The stands on the west side were big time. However, the only thing I didn't like about the new stadium was the wind got us from north, not as bad from south, but it blew from east, too. And we got a lot of northwest winds, too. Those winds changed the game plan as you couldn't throw the long ball well against the wind. I could zip the short passes but didn't want to have the wind alter the longer ones."
Regardless, Coughlin-Alumni created more than enough memories for these former student-athletes and the others who followed.
But Peterson needed one more memory of the stadium. He and his son, David '93—an all-conference defensive back for the Jacks, took a section of the field. Part of it is planted in David's yard in Rapid City. The other section was given to Doug Miller's sister, Marni Jones.
"When they built Coughlin-Alumni, it was like you were in a palace compared to what we had and then taking the field for the last game, it was a humbling experience of being part of the South Dakota State football tradition," said Ricke. "I really have good memories of the place; a lot of good times."
Matt Schmidt