Long after leaving SDSU, Cleve Abbott is still an influential figure
Students residing in Abbott Hall, one of the new residential halls dotting the SDSU campus, should be schooled on the significance of the building's namesake.
The class of 1916 featured Cleveland Leigh Abbott. Better known as "Cleve," his impact at South Dakota State was felt long after he left the College on the Hill.
He was a four-sport star, lettering in track, football, basketball, and baseball. He went on to become a legendary coach and was inducted to several halls of fame, including SDSU. However, his most notable achievement was his advancement of women's sports, particularly African-Americans.
Born in 1894 in Yankton, Abbott's family moved to Watertown, where he graduated from high school in 1912 having earned 16 letters in sports. In the fall of that year, he came to State and picked agriculture as his major, specializing in dairying.
Abbott's destiny was put in motion a few months later when SDSU President Ellwood Perisho attended a meeting in New York City on the advancement of African-Americans. After the conference, he met Tuskegee Institute President Booker T. Washington on the train.
Washington informed Perisho that he wanted to start a sports program if he was to hold the interest of young folks attending Tuskegee and attract greater numbers to the school.
When quizzed if he had any young men who might qualify as a sports director, Perisho told him about Abbott, but cautioned that he was only a freshman. Washington replied that if Abbott worked and studied hard, he could come to Tuskegee as its sports director when he graduated from SDSU.
Determined to succeed
When Perisho returned to Brookings, he contacted Abbott about Washington's proposal, and in response, "Cleve" committed himself to excellence on the field and in the classroom.
The 172-pound Abbott earned all-state football honors four straight years, including one year being named all-northwestern center. He was the starting center on the basketball team and was team captain as a senior. In track, he ran the anchor leg on the relay team.
Abbott's future was in doubt as a junior when he learned that Washington had died. However, during his senior year, Washington's secretary discovered a memo of agreement for Abbott's employment and enclosed a contract for him to come to Tuskegee.
Arriving at the famous Alabama school, Abbott was assigned to teach various phases of the dairy business to agricultural students and serve as an assistant coach.
His college duties were postponed, though, when the United States entered World War I. As a lieutenant, he was the regimental intelligence officer attached to the 336th Infantry Company of the 92nd Division. When the armistice was declared, it was Abbott who carried the message of cease-fire from his colonel to the troops.
After the war, Abbott joined the faculty of Kansas Vocational School in Topeka, where he coached and was commandant of cadets. In 1923, he returned to Tuskegee as the school's athletic director and head football coach—positions he held until his death in 1955.
In 32 seasons, Abbott's gridiron record was 203-95-15. His teams claimed 12 conference titles and six mythical National Black College championships. In 1954, he was the first African-American college football coach to rack up 200 victories.
Track dominance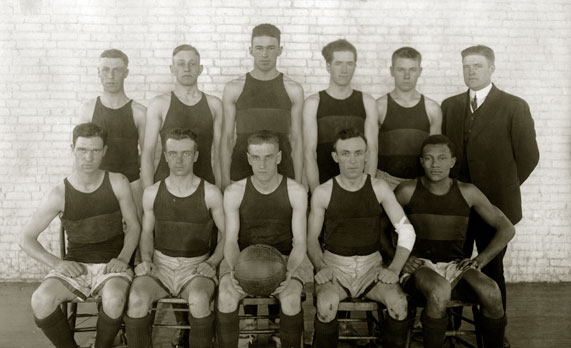 Inducted into the USA Track and Field Hall of Fame in 1996, Abbott is credited with being one of the pioneer coaches of women's track and field for more than four decades. He is said to have developed the program that opened track and field to women in the United States.
Among the notable female athletes he coached were Alice Coachman, Mildred McDaniel, and Nell Jackson. Coachman was the first African-American woman to win a gold medal, taking the high jump title at the 1948 Olympic Games in London. McDaniel repeated the feat in 1956 with a world-record jump of five feet, nine inches at the Helsinki Olympics.
From 1935 to 1955, Abbott's outdoor track and field teams won 14 national titles, including eight consecutive. His squads captured 21 international AAU track and field crowns. Individually, Tuskegee athletes brought home 49 indoor and outdoor titles with six making Olympic track and field teams.
Abbott served on the women's committee of the old National AAU (USA Track and Field predecessor) and twice was on the U.S. Olympic Track and Field Committee. He is also a member of the Alabama Sports Hall of Fame, and is one of the founders of the Southern Intercollegiate Athletic Conference Basketball Tournament.
Another female track and field standout was Evelyn Lawler Lewis, mother of Olympic track great Carl Lewis. A 1949 Tuskegee graduate, Lewis named her second son, Cleveland Abbott, after him. After college, she went on to compete in the 1951 Pan American Games in Argentina, and like "Cleve," she also turned to coaching.
Lewis says Abbott was well ahead of his time, from coaching to teaching and training techniques. What's more, she says, Abbott inspired his athletes.
"He made us believe we could be something," she explains. "His main theme—what he always talked about—was 'you can do it.' You can do what you want. You can be as good as you want. He wasn't a driving-type of coach—he was a motivator."
Kyle Johnson
Editor's note: Information for this article was taken from the book "College on the Hill."